Sunriver Resort in central Oregon: One of my favorite all-time golf resorts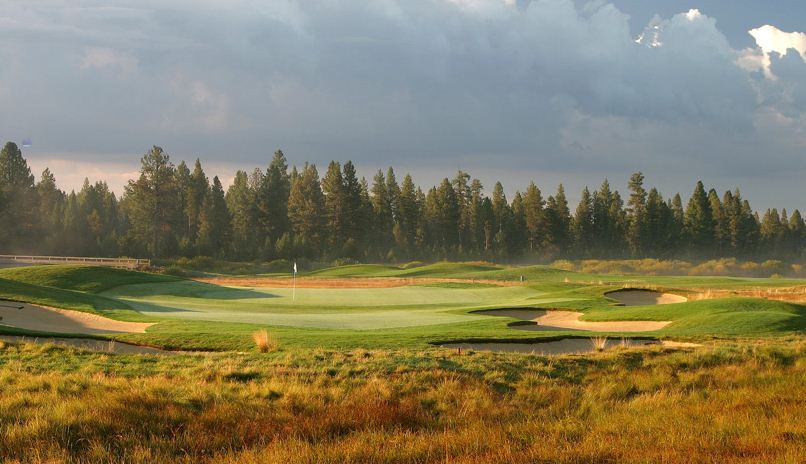 Central Oregon has been my favorite place in the world since I interned at Sunriver Resort 10 years ago. Obviously, Sunriver Resort will always have a special place in my heart and it's one of my favorite golf resorts. It offers unparalleled mountain views, all the outdoor activities one can think of and the area's popular "savoir vivre." Bend, the region's biggest city, is a mere 15 minute drive away.
The resort boasts four golf courses: Crosswater is the cream of the crop (see image above). This private club (which is open to resort guests) has been named as one of "America's 100 Greatest" by Golf Digest and has hosted a number of big tournaments, most recently the PGA Club Professional Championship in June. Crosswater, designed by Bob Cupp, is a heathland-style course that plays more than 7,600 yards from the tips. The strategic layout has a number of forced carries, the Little Deschutes River has to be crossed up to seven times.
Across the street is Caldera Links, a fun nine-hole par-3 track designed by Cupp and Jim Ramey that also has three practice holes.
The Meadows Course, located right behind the main lodge, was re-designed by former Amateur Champion John Fought. Fought paid tribute to the classic courses of the Golden Age, seven holes of the par 71-layout border the Sunriver. Directional and fore-bunkers serve as challenges and force the player to think before executing the shot.
The Woodlands Course, laid out by Robert Trent Jones II, is a fun design where most of the holes are tree lined. There are only a few water hazards in play but outcroppings of lava rock were incorporated into the layout.
After golf, visitors can get a treatment at the Sag Springs Club and Spa or they can get a drink at one of the resort's restaurants or lounges.
No feedback yet
Comment feed for this post
Leave a comment