Tetherow golf course is David McLay Kidd's central Oregon masterpiece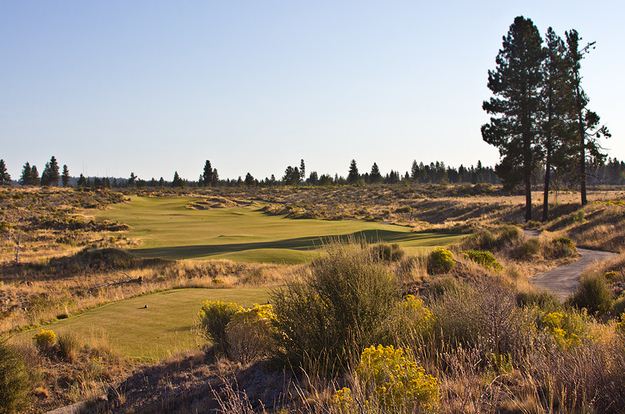 Central Oregon has always been my favorite place in the world and probably always will be. When I came back to Bend in 2009 after a three-year hiatus, I couldn't wait to play Tetherow. I got especially lucky as course designer David McLay Kidd (of Bandon Dunes fame) took the time to show me his creation.
"Which tees do you want to play? Hard, harder or impossible," Kidd joked before we commenced our round. Kidd was fortunate to design Tetherow as his home course, he owns property there and will eventually build his house there.
The golf course has a totally different look to it than all other tracks in the area. The look of the course is a nice change of pace. While the zeitgeist is to have all golf courses green and lush, Tetherow is the opposite being brownish with firm and fast conditions. With wall-to-wall fescue, the layout is somewhat reminiscent of a links course, most of the shots can (and should be) played on the ground. Kidd designed a very strategic and challenging layout that is all about playing angles, positioning your ball and using the contours oft he land.
"This is a visual bunker, you're not supposed to hit it in there," Kidd said with a smile on his face as I snap-hooked a drive into a bunker on number 2 which is rarely in play.
The "signature hole" might be number 17, a par 3 that has an amphitheater green and that sits in a sandpit. On my first visit I came to within a quarter of an inch of acing this hole (by the way, I have four witnesses of this shot).
This summer I got my second chance to bring the golf course to its knees. With its variety and the interesting layout, this is a course one can play over and over again and you won't get bored. I am looking forward to playing it again the next time I come to Bend.
1 comment
Comment
from: Michael Morshower [Visitor]
People who are into golf trips will see this as a great way to take advantage of their services. I really do love this golf course and it really really gives a great experience for golfers.
11/18/13 @ 06:23
Comment feed for this post
Leave a comment