27-hole Estonia Golf and Country Club near Tallinn the country's top draw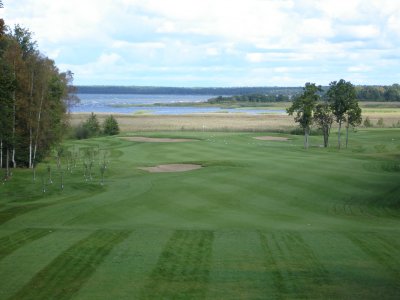 Tallinn, the capital city of Estonia, was the European Capital of Culture in 2011, and it's a country with a little bit of golf, too.
Tallinn, with a population of about 400,000 (Estonia's total population is 1.32 million), boasts the historic Old Town that is an UNESCO World Heritage Site. The Old Town is a charming part in the Medieval downtown with cobblestone streets, historic buildings (many of them are 700 to 900 years old), churches and a townwall.
Golf is a realtively new sport in the country. The first golf course in Estonia opened in 1993 at Niitvälja Golf, and today the country has six 18-hole golf courses. Three of them are in the Tallin area - Estonian Golf & Country Club, Suuresta Golf and Niitvälja Golf, each of which are within a 30-minute drive from downtown.
The Estonian Golf and Country Club is situated 15 miles east of Tallinn (drive time approximately 30 minutes) overlooking the Gulf of Finland. Estonia is home to five other golf clubs, two of them are in the Tallinn area. Estonian GCC is part of the European Tour Properties network (which is similar to the TPC network in the US) and offers homes and homesites on the estate are still for sale.
The resort's shining star is the 18-hole Sea Course, which has been ranked among the Top 100 in Continental Europe and has twice hosted a qualifier for the Omega Mission Hills World Cup. The design presents a mixture of holes in the forest, along the bay and close to the Jägala River. Numbers 3 and 15, located right next to the Gulf of Finland, are among the most spectacular and most picturesque. The course is more than 7,000 yards long to challenge even the best players while it can also be enjoyed by players with higher handicaps.
The 9-hole Stone Course is a shortish Par 36 course that is perfect as a "warm-up" or to get in a quick 9. The course was built on a limestone plain between junipers, reconstructed stone fences and heritage sites which are under national protection. The layout is no push-over, even though most holes are fairly short. Wild shots can be lost or in trouble so it's possible to wreck up a high number if you're not careful. There are plans to remodel the Stone Course and add 9 holes to create a second 18-hole track.
No feedback yet
Comment feed for this post
Leave a comment