My favorite golf course? Quite possibly Sand Hills Golf Club in Nebraska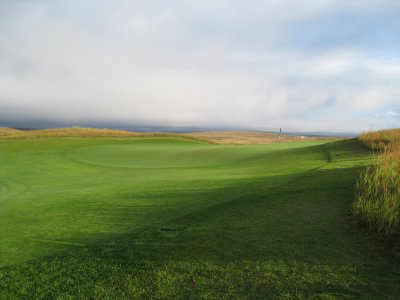 The questions I am asked most often and regularly are:
"What is the best golf course you ever played?" And "Which one is your favorite?"
I am reluctant to just name one golf course as I think it would be unfair to all other great golf courses I have played so far. Also, as Tom Doak once told me, "comparing the best courses is like splitting hair."
One of my favorites is definitely Sand Hills Golf Club, ranked the No. 1 modern course in the US by Golfweek and generally considered to be among the top 15 courses on the planet. The low-key club is remotely located in rural Nebraska, basically in the middle of nowhere (I took the five hour drive from Denver, CO).
Archtitects Bill Coore and Ben Crenshaw "found" 136 holes on the 8,000 acre property before choosing 18 for the final routing. It's about a 10 minute drive from the clubhouse to the first tee and Ben's Porch in a gas-powered golf cart. The layout is a prime example for the minimalist design principle as the designers uncovered the course more than they designed it (they hardly moved any dirt). The land boasts stunning sand dunes that makes the course look like a true links - the only thing missing is the ocean (which is more than 1,000 miles away).
The holes are all truly spectacular, the generous fairways are mostly between 50 and 90 yards wide to allow for the wind which often blows quite hard. Undulating greens that are very fast and huge blowout bunkers make a round at Sand Hills challenging. It's basically impossible to pick a "favorite" or "Signature" hole as the course has one strong hole after another. Holes 7 and 8, consecutive short Par 4s, seem to be among the local favorites.
Guests stay in cottages (the unit I stayed in had two double beds) that are pretty spartan and nobody gets a key. The club is only open from May to early October and play is limited to only 60 golfers per day! Naturally I couldn't wait to go back to Sand Hills so I wanted to visit the club again as soon as possible. However, I was told that the club has an "ironclad rule" that guests are only allowed to visit the club unaccompanied once in their lifetime. So now I have to wait for an invitation from a member to play with. I am trying to be as patient as I can, I know the day will come.
No feedback yet
Comment feed for this post
Leave a comment