Take your daughter (or father) to the course in grand style: Irish golf event beckons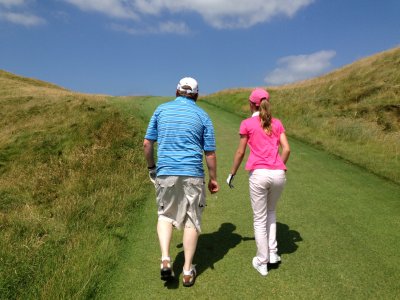 Does your daughter play golf? Or are you a woman whose father plays? In either case, here's an event of a lifetime you might want to consider. Next summer, Carr Golf Travel will play host its seventh invitational Father & Daughter Golf Tournament in Ireland. The event, which has been conducted the last six years at Doonbeg Lodge and Golf Links, moves to Old Head of Kinsale Golf Links in 2014.
The tournament is scheduled for July 20-23 and includes an optional practice round and two tournament rounds at the Old Head, a welcome reception and barbecue, a pub night/singalong in Kinsale Village and a gala dinner at the spectacular Old Head Golf Links clubhouse. Accommodations are available at the Old Head in one of their suites or at Actons Hotel in Kinsale, which has been recently refurbished and overlooks the harbor. Also included is local transportation, gifts, team photos and tournament concierge.
The Old Head of Kinsale is located in County Cork on the Southwest Coast of Ireland. The brainchild of John and Patrick O'Connor, the club has developed into one of the most recognized and sought-after golf experiences in the world.
The course juts two miles out into the Atlantic Ocean. It was designed and constructed by a unique team: Ron Kirby – former designer at Jack Nicklaus's Golf Design Services; Paddy Merrigan – Australian course architect and agronomist; Liam Higgins – one of Ireland's best known golf professionals currently on the Seniors Tour; the late Eddie Hackett – former Irish golf professional and golf course designer; the late Dr. Joe Carr– Ireland's most successful international amateur golfer and finally, Haulie O'Shea – building contractor.
Old Head, a 7,200-yard par 72, comprises five Par 5s, five Par 3s and eight Par 4s, with a minimum of six tees per hole. Nine holes play along the cliff tops, and all eighteen holes provide stunning ocean views.
Deadline to register, though, is Oct. 31, because of the limited availability at the Old Head, which is essentially a private members club. Price is $1,250 Euros (that's around $1,700 U.S.). To register or for information, click here.
No feedback yet
Comment feed for this post
Leave a comment