Greenbells trump dumbbells for golfers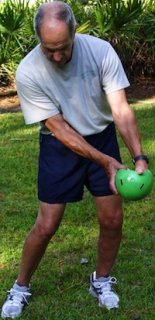 Recently, I came across a product that doesn't make any outlandish claims. In fact, it promises reasonable results, is easy to use, doesn't take a lot of time or effort, but the long-term benefits for golfers, especially senior golfers, can be very real.
The product is called Greenbells, which is an easier alternative to dumbbells. What makes it easier is that you don't have to grip them. Instead, these things that look like bowling balls have a place to slip your hands inside making it easy to hold onto while you do a variety of range of motion exercises designed to increase flexibility and strength. They're fairly lightweight so they're not difficult to handle, but they do make stretching more effective.
"When I first saw this, I didn't know what to think," said Don Gwaltney, a former Chicago advertising executive who has an interest in the company along with several other principals. "But when I put my hands in them, it made a lot of sense."
Gwaltney, who has also authored 10 books on various subjects, has been using a five-pound prototype for a while now, sparring with them and using them to stretch. The standard weight in the prototype, however, is 2.5 pounds, which doesn't seem like much but can really enhance exercises and stretching, said Gwaltney.
Gwaltney, who lives on Spring Island, S.C., recommends using them with toe touches, windmills and exercises that emulate the golf swing. He says they're great for warming up right before a round as it only takes about five minutes to get loose. And best of all, you're not going to get injured using the Greenbells.
Greenbells also encourage quiet hands. "The great thing about is you're exercising your big muscles, the ones that provide power in the golf swing," said the Gwaltney. Since starting the program, he 77-year-old said he's seen distance increases, but more importantly golf is easier and more enjoyable.
The thing is, this product isn't available to the mass market yet, but you can purchase them, sort of, if you pledge a certain amount of money to help the company start production. The company is set up on kickstarter.com with a goal of $75,000 over the next three months so it can start production.
For example, if you pledge $75 you can get a set of Greenbells and exercise chart if the company reaches its goal. (If it doesn't, you get a complete refund). If you pledge more, it comes with some more extras.
For more information or to pledge just visit the Kickstarter site here.
1 comment
Stretching. Painful at first but I know it's good for me. I'll give it a try. Thanks, Accidental Golfer!
09/19/13 @ 05:18
Comment feed for this post
Leave a comment