There's the beef: Tour caddie hits it big with homemade jerky for golfers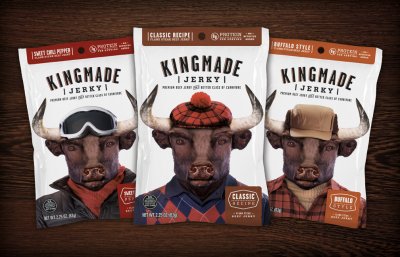 It's the hottest snack on the PGA Tour, in some cases quite literally, if you're talking about the buffalo or sweet chili pepper flavors. We're talking jerky here, and if you're trying to watch your carb and calorie count, it's the perfect golf course snack. So it was no surprise to learn that many PGA Tour and LPGA Tour players eat beef jerky during tournaments, but not just any beef jerky. They like the homemade jerky made by caddie Jeff King.
King, a caddie for the past 16 years on the LPGA and PGA tours, a few years ago decided to try making his own beef jerky in his kitchen in McKinney, Texas, a few years ago.
"I always enjoyed eating beef jerky but the stuff I found in convenience stores and gas stations was terrible," said King. "I knew there had to be a way to make a premium grade jerky and satisfy the health-conscious tastes of the players out on tour."
At first, he wasn't very good at it, but after tinkering and getting some outside input from one of his LPGA Tour clients, Candie Kung, in 2011, King hit upon the formula. Tour players and other caddies liked it so much they started purchasing it from the King. Soon, he was making over 170 pounds a week to meet demand.
Today, more than 100 tour players - including Tiger Woods, Matt Kuchar, Davis Love III, Ricky Fowler, Dustin Johnson, Graeme McDowell, Candie Kung, Yani Tseng, Azahara Munoz and Jane Park – are among Kingmade Jerky's loyal customers.

"It's hands down the best I've ever had," Matt Kuchar said. "I've always enjoyed going around the country tasting handmade jerky, and nothing's close to this stuff for its flavor and tenderness."
Agreed. It's pretty darned good. I tried the buffalo style and sweet chili pepper flavors ? both of them very tasty and low calorie. The buffalo style, for example, is just 100 calories for the whole 2.25 ounce package. Made with 100 percent flank steak instead of the low grade round steak used for many other commercial jerkys, Kingmade also has five times less sodium and sugar than any of its competitors and does not add any MSG or nitrites.
Having picked up investors for mass marketing, King is now selling his jerky to everybody. It's no longer made in his kitchen, but he assures that it's the same formula. "We are a premium protein for a different kind of carnivore," he said.

Kiingmade Jerky comes in three flavors: sweet chili pepper, classic and buffalo. The product sells for $8.00 for 2.25 ounces, and also is available in one pound bags. For more information and to place orders, visit the company's website at www.kingmadejerky.com.
No feedback yet
Comment feed for this post
Leave a comment