Belterra Golf Club among seven Indiana courses on GolfNow's top 100 list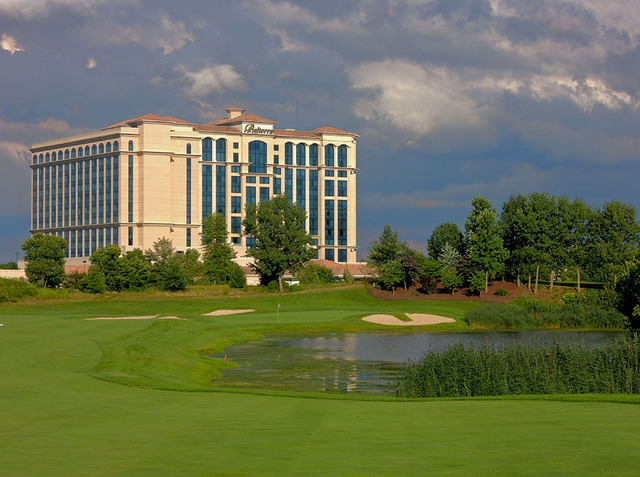 Belterra Golf Club (Mike Bailey/TravelGolf)
While I can't say that Tom Fazio is my favorite architect, I will say that I've never played a Fazio course I didn't like. Which is why when I found out that Belterra Golf Club near Cincinnati on the other side of the Indiana border was designed by Fazio, I knew I would be in for a treat.
Not surprisingly, GolfNow.com users feel the same way, which is why Belterra came in at no. 53 in the inaugural GolfNow Top 100 rankings. The poll isn't designed to identify the best 100 courses in the country – though some on the list are in that category as well – but rather the favorite golf courses across the country from the thousands of courses that can be booked at GolfNow.com.
And in case you're not familiar with GolfNow.com, it's the largest online tee-time booking service in the world. Not only is the database large, but users can save significant money as well.
But back to Belterra. I checked out Belterra recently on my way to French Lick Resort in Indiana, where the PGA of America had just announced that the Dye Course was getting the 2015 Senior PGA Championship. Indiana Gov. Mike Pence was on-hand for the announcement. Naturally, he lauded his state and singled out Belterra (check out our photo gallery on Belterra) as one of the state's finest examples of excellent public golf. (Actually, there are seven Indiana golf courses in our GolfNow Top 100. Champions Pointe Golf Club in Henryville was the top-ranked course in the state at no. 27.)
Gov. Pence was not wrong about Belterra.
In typical Fazio fashion, this nearly 7,000-yard par-71 course is interesting, scenic and playable for all levels. Yes, there are large bunkers everywhere, but they're no impossible. And not surprising, conditioning was near flawless. I'm sure the course being an amenity of the casino helps see to that.
The course highlights the natural beauty of the area with plenty of elevated tee shots, mature trees, lakes and the backdrop of the hotel and casino. The practice facilities are also among the best you'll find anywhere.
The facility is also well run, from a large well stocked golf shop to the marshals, who bend over backwards to make sure pace of play is good and customers are well take care of.
Tee times can booked for as little as $35.
No feedback yet
Comment feed for this post
Leave a comment