A taste of the PGA Championship in northern Michigan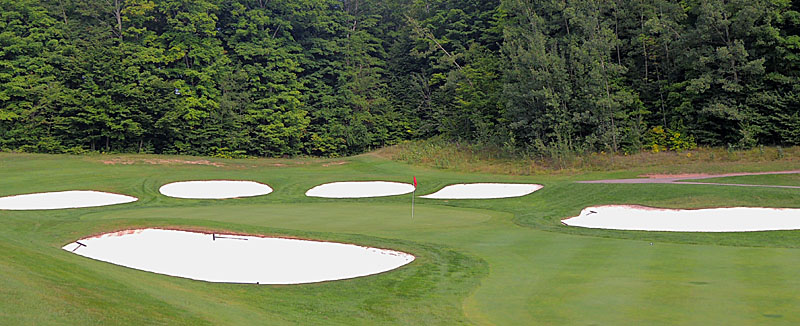 The fifth hole at the Donald Ross Memorial in northern Michigan (Mike Bailey/TravelGolf)
If you want a taste of what it is like to play in the 2013 Championship, you don't have to go to Rochester, N.Y.; just head to northern Michigan.
Because if you're like most of us, you're not going to get a tee time at Oak Hill Country Club this week, but you can get on the Donald Ross Memorial at Boyne Highlands Resort in Harbor Springs, Mich. The fifth hole on this course is a replica of the 13th hole at Oak Hill Country Club.
This is the hole known as the Hill of Fame, because many of the oaks there have plaques with names of those who have contributed to the game of golf, like Dwight Eisenhower, Tom Watson and Babe Zaharias. From the back tee, it plays well over 600 yards – uphill, with plenty of rough and a fast green that slopes back to front.
I've never played Oak Hill, but if the real hole was anything like the replica, I have a renewed respect for their talents. Simply put, this was one of the hardest par 5s I've ever played.
After my drive I asked the head pro, Josh Richter, how far I should hit it to lay up for my third. He's answer: "All you got." I was still 360 yards away from the green. (It took all I got to make par on the hole.)
The Oak Hill hole, though, is just one part of this magnificent course. All three courses at Boyne Highlands are good, but this might be my favorite. Just one solid Donald Ross hole after another from courses like Oakland Hills, Pinehurst No. 2, Inverness and Oak Hill, to name a few.
Plus, it was in incredible condition. There are more than 100 bunkers on the course, and they were all pristine. And the greens were among the best I've ever played, thanks to superintendent Shaun Osborne and his crew. I'd still love to play Oak Hill someday, but this wasn't a bad consolation.
No feedback yet
Comment feed for this post
Leave a comment