Treated like a pro at the Irish Open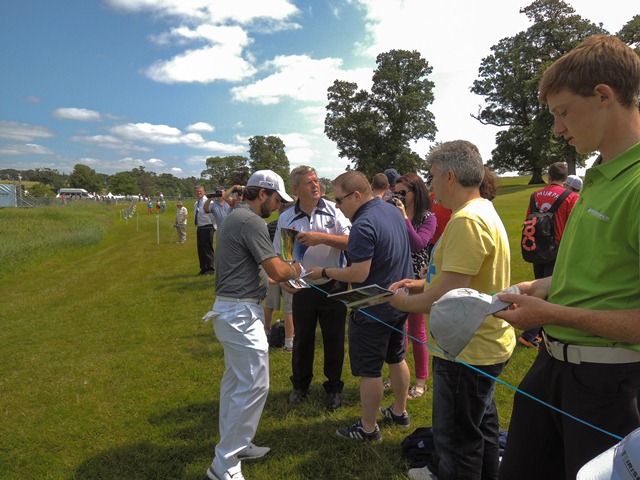 Francesco Molinari didn't refuse an autograph on pro-am day at the Irish Open. (Mike Bailey/TravelGolf)
MAYNOOTH, Ireland – Behind the first tee, the grandstand was full. It was pro-am day at the Irish Open, and I have to admit, it was tough not to think about embarrassing myself in front of spectators.
Francesco Molinari, the pride of Italy, was our pro. He hit first, of course, a perfect shot in the middle of the fairway. We moved up to the emerald tee, and I was next. Somehow, I managed to hit it down the middle and avoid shame. Oddly, that shot didn't make me nervous, perhaps because it was a full-swing. An easy chip later on the hole was a different story, though I did manage to make a putt for par.
This just in: Playing golf in front of spectators is a lot different than playing with your friends. It's easy to press, and you're always congnizant of the fact that you could hit somebody with an errant shot. But it's pretty invigorating as well.
The Irish Open this week is on the Montgomerie Course at Carton House. It looks like a traditional American course except for the high grass off the fairway and the really deep bunkers. Molinari handled the course with ease – our group of amateurs found it plenty tough.
But every once in a while, one of us would hit a good shot, which was met by applause. That was pretty cool. (I even signed an autograph.)
Molinari signed countless autographs – on every hole, and he talked to fans and posed for pictures with fans. He always had time. In Europe, the players really appreciate what they do for a living, but it really can be a grind.
I asked Molinari what he likes to do when he's not playing golf. He said what little time he has he spends with his wife and 2 1/2 year-old. Time off is rare, and during the week, there are Monday appearances, practice rounds and competition. If they make the cut, it's a seven-day a week job.
After the pro-am, there was a gathering for the amateurs. The pros didn't have to be there, but many of them showed up, including defending Jamie Donaldson and Northern Ireland's Darren Clarke, who spoke to the crowd with a Murphy's in his hand.
In short, these are regular guys for the most part. They laughed, told jokes and, of course, had a few beers with us. Better than that, though, we were informed that all the pro-am pros donated their appearance fees to charity. That alone has got to be worth a couple of birdies this week.
1 comment
I've always wondered what an casual golfers score would translate to on a course setup for a pro tournament. If I am a 16 handicap on a municipal course, how do I fare at the Irish Open?
06/28/13 @ 14:38
Comment feed for this post
Leave a comment