A travelin' golfer's 5 favorite and worst airports (Seattle, Charlotte among favorites)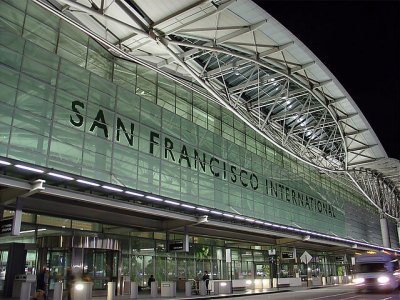 My chief complaint when I return home from a golf trip is that it takes forever for get my clubs at baggage claim in Terminal C at Bush Intercontinental at Houston. It's not so bad if I don't fly United because in terminals A and B, golf clubs come out with the regular stuff, and the luggage isn't competing with what seems like another 100 or so United flights. But in Terminal C baggage claim, there's a special place for oversized baggage like golf clubs, and it seems like they make you wait an extra half hour for your sticks, just to punish you or something.
Other than that, though, Houston is a good port for golf trips and perhaps even better for layovers. There are plenty of restaurants, the airport is aesthetically pleasing, and it seems like there are fewer delays than airports like Atlanta or Chicago, for example.
In the last 10 years, I've managed to experience just about every significant airport in the United States, and have, of course, developed my preferences and dreads. Here's a list of my top five and bottom five. I welcome your thoughts in the comment section below.
Five favorites
Seattle (SEA): A great airport for grabbing a bite to eat. I love Anthony's Seafood, where you can get everything from great mussels and oysters to fish and chips. Plus, I just like the overall vibe of the airport – not too large, not too small, and you get your golf clubs in a reasonable amount of time.
Charlotte (CLT): Gotta love the rocking chairs in the main terminal, plus Charlotte offers a nice variety of restaurants in its large food court, including a pretty good sushi bar. Plus you have the First in Flight theme throughout (Kitty Hawk).
Minneapolis (MSP): This modern airport has plenty of moving sidewalks to get you around quickly, plus great décor and workspaces if you need to get a little done between flights. A nice food court and mixture of sit-down restaurants make Minneapolis a good connector.
San Francisco (SFO): One of the few destinations I opt for a window seat because of the cool views of the bay and city during landing and take-off. Then to top it off, SFO has one of the best food courts in any airport worldwide, especially if you like Asian. (San Francisco Soup Co. is awesome). It makes my favorites list despite the supreme hassle of taking rental clubs on the train to and from the rental car center.
West Palm Beach, Fla. (PBI): Easy in and easy out. Golf clubs are often waiting for me when I get to baggage claim, and if you've got a frequent rental car program like Hertz No. 1 Gold, you can be on your way to playing golf in less than a half hour after you get off the plane.
Five worst:
New Orleans (MSY): It's easy in and easy out, but lord help you if you have a layover there (which can happen if you fly Southwest). There's virtually no food inside security, and outside of it, Popeye's Fried Chicken is your best bet. I guess the good folks in the Crescent City are doing everything they can to make sure you eat all your meals in the city.
Atlanta (ATL): It seems like every time I connect through Atlanta, there's a delay, especially in the summertime, and often we wind up sitting on the tarmac waiting for weather clearance. Plus, more often than not, you have to take the underground train from one terminal to another to connect, not good if you come in late from your first flight.
Los Angeles (LAX): besides having a dated feel, the airport is usually crowded and doesn't offer many good restaurant choices. Couple that with a nasty ride to your rental car, and it's just not very appealing. I always opt for John Wayne Airport in Orange County instead when available.
Detroit (DTW): Even with improvements over the past few years, it's still inconvenient. There's nothing special about the in-airport dining (mostly chains, it seems), and if it's your final destination, count on another long wait for your golf bag and an even longer wait for a shuttle. Detroit has never excelled in convenience.
New York (JFK): This can be one of the best or one of the worst, depending on your point of view, but my experiences have been mostly negative. I once waited two hours for my bags on an Easter weekend, and when I inquired about where they were, I was brushed off. Same at the rental car company. When they couldn't get my company credit card to swipe, they asked me for my personal card instead of going through the trouble of keying in the numbers manually. I insisted on the former.
5 comments
Nice take on domestic airports. I was surprised to see that KCI (Kansas City) didn't make the list of the five worst. It's a horrible airport for layovers. But if you're going somewhere warm in the wintertime, it's a great place from which to leave.
05/17/13 @ 15:05
Well-written! Thanks for posting this! I've just started playing golf, so I'm just getting into this whole thing. I've been practicing my putting with ball targets (from http://shop.annestone.com/collections/putt-a-round) to get ready for a day on the course

05/20/13 @ 02:54
Comment
from: Brandon Tucker [Visitor]
Totally agree re: JFK, LAX, and of course, the black whole that is Hartsfeld-Jackson. I don't like Sky Harbor very much, bad food selection, though it seems like you can always find a cheap flight here. Also, don't get me started on Orlando (where's the elite lane? You have to pay for it????)
05/20/13 @ 07:18
Comment
from: Andrew Wood [Visitor]
Tampa is the best airport in America!
05/22/13 @ 04:14
Comment
from: Mike Bailey [Visitor]
Brandon, they used to have an "expert traveler" lane in Orlando, but from what I hear, many who go through are anything but experts, meaning that line has gotten longer and longer. Yeah, Orlando could have made my list for security lines alone.
05/23/13 @ 15:33
Comment feed for this post
Leave a comment