New York living, early American golf in Dallas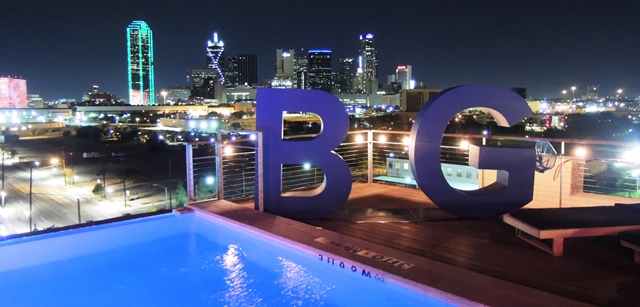 NYLO South Side in Dallas (Mike Bailey/TravelGolf)
DALLAS – There are lots of wonderful resorts and hotels in this country, and many of them are unique, but until recently, I've never run across anything like the NYLO South Side in Dallas. I only got to spend one night there – and it was a pretty short night – but it definitely made an impression.
NYLO is short for New York Loft, and that's exactly what the rooms look like in this eco-friendly business hotel that breaks the mold. Everything in it is geared toward saving resources and providing a clean, comfortable work and sleep space. The relatively new hotel is actually a restored 102-year-old building (it used to be a coffin supply company and later, Sears administration building), showcasing walls with works from local artists and guest rooms with original concrete floors and exposed ceilings. The rooms include a nice work area, large high-def TV, a really comfortable bed and walk-in shower. More impressive, however, is the lobby, library, pool table and rooftop soda bar that overlooks the Dallas skyline. When the weather's just right, it's a terrific place to hang out, especially by the infinity pool outside the bar.
The property was developed locally by Matthews Southwest, who also owns the Dallas location of Gilley's next door as well as some other properties. (The old Houston location of Gilley's is where they filmed much of the movie Urban Cowboy). Matthews also has The Tribute and Old American Golf Club, which naturally lead to terrific golf packages that can be paired with this cool boutique hotel.
Old American is the Tripp David/Justin Leonard design that pays homage to the great early American architect. The Tribute reflects the great links courses of Scotland, like the Old Course at St. Andrews, for example. Both courses are a blast to play, even when the weather is unseasonably cold and windy as it was earlier this week.
The courses are some 35 miles away from the hotel, but it's a fairly easy shuttle ride from the hotel. Or you can choose from one of the other two closer NYLO hotels in Dallas, which also include the Las Colinas and Plano. And there are other DFW golf courses that can be added as well.
For more information on golf packages at NYLO Hotels, call Old American Golf Club at (972) 370-4653. Or go to NYLOHotels.com and look for the Stay and Play tab.
1 comment
Great places in Dallas, well done
05/06/13 @ 09:09
Comment feed for this post
Leave a comment