Golf on the Atlantic: Ocean City, Maryland isn't exactly Myrtle Beach North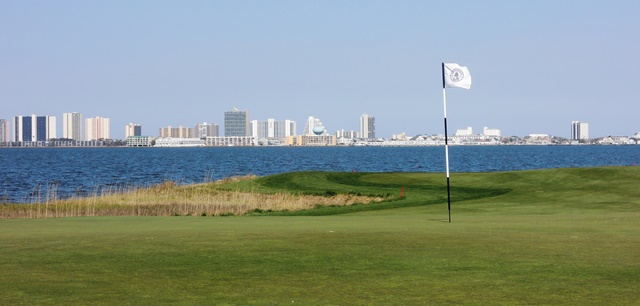 Lighthouse Sound Golf Club (Mike Bailey/TravelGolf)
The comparison is a natural one. How does the Ocean City, Md., area, which includes southern Delaware, compare to Myrtle Beach? I thought they would be similar – and they are in some respects – but they are very different as well.
Myrtle Beach has long been a popular spring destination for those in the Northeast as well as the Midwest. Cheap flights, warmish weather and 100 or so golf courses make it the perfect buddy trip getaway, especially for those who have spent the winter hitting golf balls in domes, waiting for the ice to recede. But what I found out about Ocean City is that it's a great alternative for Northeasterners who don't want to fly and rent a car. There are fewer courses, no doubt, and they are a little pricier than Myrtle, but it's only a three-hour drive or less from Philadelphia, Baltimore and Washington, D.C., and a little farther from New York. Driving to Myrtle Beach, as one from the city of Brotherly Love told me, would take 10 hours – hardly doable for a weekend golf getaway.
And while there are fewer courses, the quality of golf here is pretty good. So far, I've played several exceptional courses. Lighthouse Sound, for example, is an excellent Arthur Hills track with spectacular views of the bay and Ocean City skyline. Rum Pointe G.C., which also has great water views, is a Pete and Perry Dye design that everyone seems to love. Baywood Greens, on the Delaware side, not only has great holes but exceptional ornamentals and landscaping. Black Bear (also Delaware) has 27 really good holes. And GlenRiddle, which has 36 holes, is built on the land of the racehorse stables of Man 0′ War and War Admiral (the two courses are named after them.)
Like Myrtle Beach, there are hundreds of hotels, catering to every price range, with plenty on the beach or the boardwalk. Hundreds of restaurants, bars and pubs make it a great place to socialize and dine, again perfect for buddies or families.
Also, like Myrtle, you'll find mini golf on every corner, it seems. There are more than one or two seafood buffets as well. Most of all, it's a great escape for friends from the northern cities, but not too bad for us Southerners either. (Packages are available here and through OceanCityGolf.com.)
By the way, it's easy to tell who made the trip down here from the Northeast. Those are the guys wearing shorts and short-sleeve shirts, while driving golf carts with wraparound protection from the elements. Cloudy and 58 degrees are balmy conditions for those who have endured the winter they had this year.
2 comments
Looks quite peaceful. I've just started playing golf, so I'm just getting into this whole thing.
04/30/13 @ 06:34
Comment
from: vinny [Visitor]
Down this week from NYC. Played 4 rounds so far since Monday. Weather great 75-80+. Course selection great. Dining (sunset grill) with great drink & food prices, especially at happy hour(4-7) I recommend OC for easy getaway from north.
05/23/13 @ 09:41
This post has 1 feedback awaiting moderation...
Comment feed for this post
Leave a comment