Colonial, Crowne Plaza Invitational a real golf media favorite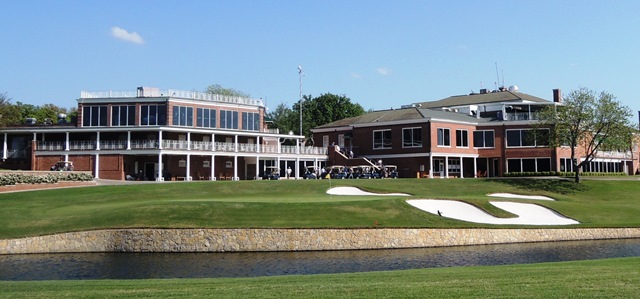 A perfect day at Colonial Country Club (Mike Bailey/TravelGolf)
FT. WORTH, Texas – The Crowne Plaza Invitational is still a month a day, but on Monday it was center stage at venerable Colonial Country Club. It was media day, which means we got to play the course.
They don't always let the press play golf anymore at every PGA Tour event's media day, but I have the feeling if the good folks at the Colonial ever pulled the plug on this event, some of us would have to undergo therapy (many of us already need that). Getting to play Colonial, simply put, is a treat, a step below Augusta National perhaps, with nearly as much history.
The media tournament here is called the Wide Open, and there are some old cohorts of mine who have been playing in this since the 1960s. As one veteran told me, once you're in, you in, and you don't ever want to stop coming.
This year, we couldn't have asked for a better day. Weather was perfect, and so were course conditions. Each group had a club member to help shepherd them around the course. Barry was our guy, and he couldn't have been a more gracious host (plus, he guided us to a second-place finish). He's been a member at Colonial for 37 years, and there wasn't a putt he couldn't read on Colonial's small and difficult greens.
The club was founded in 1936 by Marvin Leonard, who owned Leonard Bros. Department Stores in Ft. Worth. At the time, it was probably the only course in the area with bentgrass greens. Known as Hogan's Alley, this was Ben Hogan's home club after he retired from golf, but that just scratches the surface of the history of this place. Throughout the magnificent clubhouse are photos of past champions that include every big name in golf. By in large, this was a favorite venue on the PGA Tour, and it's even better now after Keith Foster's renovation a few years ago. Foster's goal was to bring the course back to its roots. He did just that, combined with a little modern technology, of course.
"I began concentrating on 'peeling off' the layers of previous work which, although well-intended, I think began to change the inherent charm of Colonial's original design," Foster said before the 2009 Colonial Invitational. "My desire, and our goal, was to reveal and restore its classic elements."
Indeed, Colonial and the Crowne Plaza Invitational – and yes, the Wide Open – remain as classics.
3 comments
Comment
from: James Stewart [Visitor]
Nice summary ~ didn't get a chance to say much more than hello, but hope all is well. Thanks for words from your side . . . my father-in-law is one of those who has been "in" since the early days. Another member commented during lunch that "he had known Larry for more than half his age." ~ all due the tournament.
Our shepherd member also cued us into Hogan's Alley ~ alas ~ only pars for our group. ~ kudos on the second place finish! ~ JS
04/23/13 @ 07:52
Comment
from: Mike Bailey [Visitor]
Thanks for comment, JS. Indeed, there wasn't enough time to visit. There never is, it seems. Good to see you and all my other media friends at the event. This was actually my first time playing in all the years covering golf in Texas. I had meant to do this a long time ago, but the stars never aligned until this year. What a treat.
04/23/13 @ 09:12
Mike, this is a great review of Monday's event. Thank you very much for writing it and acknowledging traditions. Back in the day, almost all of the media that played would write recaps like this or talk about it on TV or radio in the days that followed. You get it. Thank you for all your support for the tournament.
04/24/13 @ 06:51
This post has 1 feedback awaiting moderation...
Comment feed for this post
Leave a comment