Winter (we hope), Masters behind us: 'Dye'ing to play golf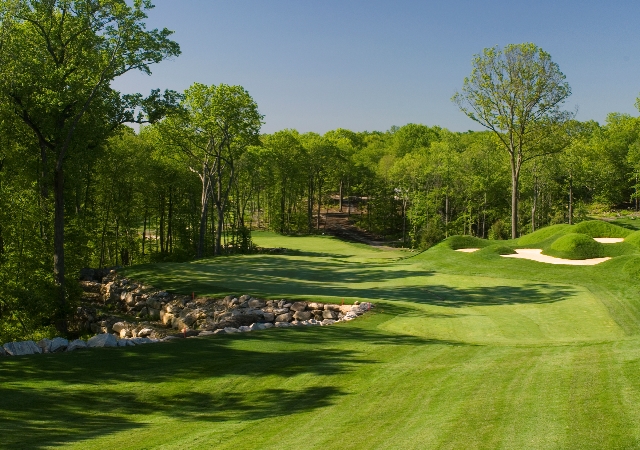 Pound Ridge Golf Club is taking tee times.
For those of us who live in 12-month golf seasons, it's easy to forget that much of the country eagerly awaits spring and that chance to finally get out and dust off the golf clubs. The storms, it seems, have been unrelenting this year for the folks in the northern half of the country, particularly the northeast, which has already had two false starts to the golf season.
But with the Masters in the rear view mirror, it is indeed golf season. From the mid-Atlantic (where there have actually been some really hot days already) to New York and New England, courses are open and ready to welcome golfers.
One Northeast course I'd like to get another crack at is Pete and Perry Dye's Pound Ridge Golf Clubin Westchester County, N.Y., just minutes from the city. (They're up and running and offering some special deals and packages at PoundRidgegolf.com.) It's one of the most difficult – and beautiful courses I've ever played (read my review here) – and I didn't exactly show up with my "A" game last year when I tackled it. It was more like my "D-minus."
But that's Pete Dye. His course at French Lick (Indiana) Resort is much the same way. I actually showed up to that course feeling pretty good about game, but eventually Dye won. Still, both courses were great experiences.
I know Dye gets a lot of criticism, but by in large, I like his courses. I just returned from the Omni Amelia Island Plantation Resort on the northeast coast of Florida. One of the courses there is the Oak Marsh Course, an outstanding Dye design that takes advantage of the natural saltwater marshes and majestic oaks along the Intercoastal Waterway. It's a prime example of a playable Dye Course that's mighty tough if you tackle it from the back tees, but plenty forgiving from the forward tees.
Of course the granddaddy Pete Dye Course of them all is coming up next at The Players Championship – The TPC Sawgrass Players Stadium Course. It's been revamped a couple of times, but stands as a modern classic. The island green 17th, which was Alice Dye's idea, is one of the most copied holes of all time. And if imitation is the most sincere form of flattery? well, you get the idea.
No feedback yet
Comment feed for this post
Leave a comment