Golf & tennis a great combo at the Omni Amelia Island Plantation Resort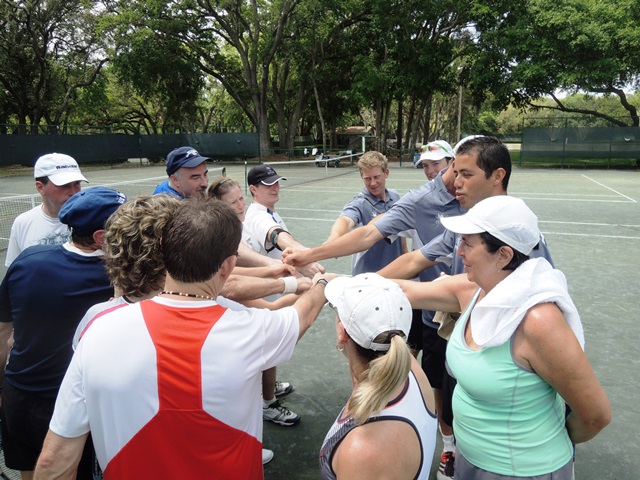 The intensity is pretty evident during morning tennis drills at Omni Amelia Island Plantation. (Mike Bailey/TravelGolf)
AMELIA ISLAND, Fla. – If you play golf and tennis, then the Omni Amelia Island Plantation is your resort.
First off, there are two cool golf courses, the recently renovated Oak Marsh Course, designed by Pete Dye, and the Ocean Links Course, which has seven holes (as you might expect) right on the Atlantic Ocean. Both, which are located just a few hours east of where the Masters is taking place, are very challenging, especially with the ever-present ocean breeze. The Ocean Links can be a little quirky at times, but both are very enjoyable.
If you're like Matt Kuchar or Jack Nicklaus, however, you're probably going to want to get some tennis in here as well. Kuchar, of course, won the Players Championship last May – right after playing a couple of sets with his family on Sunday. Nicklaus has long played on his own courts at home in Jupiter and plays both sports regularly with tennis great Cliff Drysdale. Both will tell you how the two games complement each other, and how tennis can help your endurance.
After yesterday morning, I can attest to that.
As a tennis/golf nut myself, I got to take part in a three-hour drills clinic at the resort's terrific tennis center, which is operated by Cliff Drysdale Tennis. This is the former home of the Bausch & Lomb Championships, a professional women's tennis tour event played here for almost 30 years. Chris Everett used to be the tennis pro here. And today, at this oak tree-covered racquet park, there are still 23 Har-Tru clay tennis courts, which is a lot easier on the body for us old folks than the hardcourts.
There were about 15 players in the intermediate-and-above drills, who were hustled about by four excellent tennis instructors led by director of tennis Scott Colebourne through the warm, humid morning.
Drills, here is the operative word, because if you're like me, and more in golf shape than tennis shape, this was like going through boot camp. Playing a match is way easier. We were divided into groups, where instructors were feeding us balls. Since the teacher student ratio is 1:4, there was little time to rest in between hitting nine balls in a row as you made your way from baseline to net, then switched to the other side.
And yes, this went on for three hours, pretty much non-stop. If it sounds tiring, it was, at least for me. But the rest of the regular tennis players didn't seem to be laboring that much. Most of them had already been out here for a couple of days so maybe they were used to it.
After the first hour, I had wondered if this was such a good idea. After the third hour, after drinking three Gatorades and three bottles of water, I confirmed it was a good idea. After all, I did survive.
I can't help but think this is good for my golf game, especially those hot summer rounds where I seem to run out of gas around the 14th hole. A couple of sessions like I had yesterday morning on the tennis courts might get me to start thinking about about playing a doubleheader.
No feedback yet
Comment feed for this post
Leave a comment