Shell Houston Open players flying high with Adams Golf, Southwest Airlines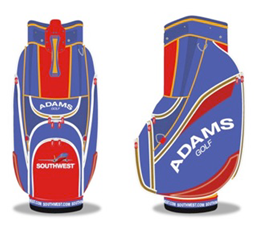 HOUSTON – This week marked the introduction of the new Southwest Airlines Adams Golf team, which is composed of eight PGA Tour players, and it couldn't have worked out better, not only for the players, but for the sponsors as well.
The team got new bags, which now carry the Southwest and Adams Golf logos, and four of the eight players were scheduled to play in this week's Shell Houston Open at the Tournament Course at Redstone Golf Club until a little known journeyman named Steve Wheatcroft made it five by making the field through the Monday qualifier.
But it gets better than that. Wheatcroft, 35, whose career highlight was a 29-under par performance to win a Web.com Tour event, wasn't even exempt for the Web.com Tour this year. Now he finds himself one shot off the lead at the Shell Houston Open going into Sunday's final round.
The thing is that his sponsors had to quickly ship him a bag this week with new Southwest Airlines/Adams Golf logo on it. Other players sporting the new logos in the SHO field included Aaron Baddeley, Lee Williams, Paul Haley II, and Jeff Overton. Baddeley (-3) and Overton (-5) also made the cut this week.
Southwest, which doesn't charge passengers a bag fee to check golf clubs, is in the middle of a campaign promoting golf trips on its website. And it all kicked off Monday as Baddeley and Kenny Perry flew from Orlando to Houston on a commercial Southwest flight. Unknowing passengers were treated to a gift bag, club giveaways and a putting contest at 35,000 feet.
Another part of the promotion has the airline and the Golf Channel building a relationship throughout the year on a new TV segment called "Runways to Fairway." Each episode will feature Golf Channel hosts traveling to golf hotspots around the country.
No feedback yet
Comment feed for this post
Leave a comment