Golf on Maui: Don't want to wake up from this dream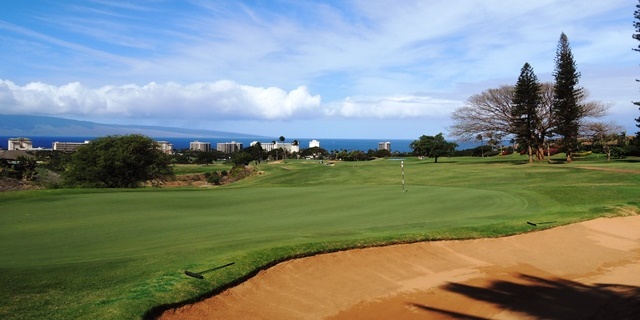 The Pacific and neighboring isles are never far away from Kai Course at Kaanapali. (Mike Bailey/TravelGolf)
LAHAINA, Hawaii – I've been told more than once that if Pebble Beach Golf Links wasn't set on the cliffs above the Pacific Ocean, it wouldn't be that special. No kidding. Here's a newsflash: the setting of a golf course is a big part of the whole package, and few places, if any, can match Pebble Beach.
The golf courses on Maui come awfully close.
So far, I've only played a couple of courses here, but with each day, it continues to amaze. I started with the Royal and Kai courses at Kaanapali. Both have plenty of ocean views (which includes the islands of Lanai and Molekai in the distance), and there's was plenty of whale action in plain sight.

In fact, they tell me that more than one accident on the coastal highway leading up the resort has been caused by cars rear-ending vehicles with drivers who suddenly slowed down to catch a glimpse of these magnificent creatures putting on a show for visitors.
Tomorrow morning, it's the Plantation Course at Kapalua. This is the same course they play the Hyundai Tournament Champions to start the PGA Tour season. Besides the whales, there's all sorts of elevation change and extreme slopes to look forward to, including the 650-plus yard 18th that's as high as the Empire State Building, it seems. An afternoon on the Bay Course at Kapalua promises to just as scenic or perhaps more spectacular. And the rest of the week should continue to amaze with Wailea, two courses on the island of Lanai and a few more.
In short, there's no substitute for nature's splendor, especially in golf. It's something no other stick and ball sport can boast.
No feedback yet
Comment feed for this post
Leave a comment