Black Gold Golf Club in California: Sometimes the grass is greener on the other side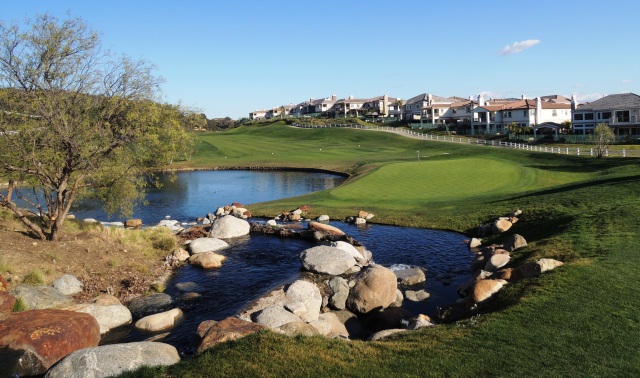 Black Gold Golf Club (Mike Bailey/TravelGolf)
Having opened a little over a decade ago, the fun Arthur Hills-designed Black Gold Golf Club course in Southern California was originally bentgrass, but all that has changed. You can certainly grow bentgrass in California, but it's much easier to grow weeds instead.
If that sounds like a bad thing, it isn't. In fact, environmentally speaking, most courses shouldn't fight it, and Black Gold isn't doing that anymore. Sure, an all-bentgrass course is gorgeous, but maintaining it is costly and labor intensive.
One solution researchers came up was a new genetically mutated grass called Roundup Ready Bentgrass. The grass is immune to effects of the pesticide Roundup, which kills just about every weed and other grass. But it may never get approval. Seems the trouble with RR Bentgrass is that pretty much nothing kills it, which means that it could spread like wildfire if they can't come up with some kind of way to hold it in check.
Anyway, there's a better solution. Don't force it if you don't have to. Why fight nature? In the case of Black Gold, that weed is Kikuyu grass, which is common in Southern California. It's a thick turf that can be difficult to play out of when it's grown to rough height. But honestly, it looks just fine, and at fairway height, the ball sits up nicely.
Black Gold is currently in the middle of a five-year transition to Kikuyu (not on the greens), and is well ahead of schedule. The fairways are just about filled in, and it's still winter. By this fall, it should look near perfect, and it'll be much easier to maintain.
The same could be argued for greens, and all week, I played a variety of daily fee courses – including San Vicente Resort (Ramona), San Juan Hills (San Juan Capistrano) and Shorecliffs (San Clemente) with terrific greens – greens with another weed, Poa Annua. This is the same grass you'll find on many of the great U.S. Open venues around the country – including Pebble Beach, Winged Foot and Olympic Club – and despite certain high profile players complaints of their bumpiness, they really do putt just fine.
No feedback yet
Comment feed for this post
Leave a comment