Great way to spend a rainy day: hitting the new RocketBladez irons at TaylorMade's headquarters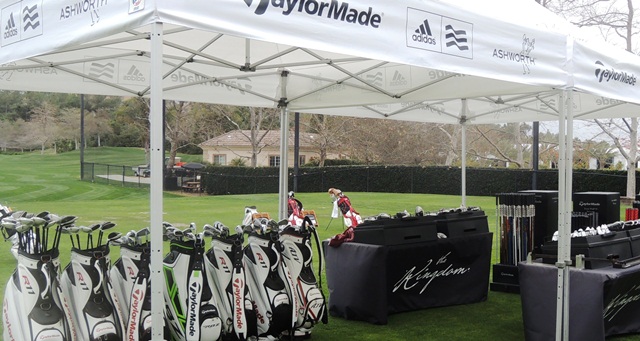 The Kingdom at TaylorMade's headquarters in Carlsbad, Calif. (Mike Bailey/TravelGolf)
CARLSBAD, Calif. – I couldn't help but notice, but everywhere I've played this week in Southern California – San Vicente, Carmel Highland, Salt Creek and Black Gold – everybody seemed to have the new RocketBladez irons from TaylorMade in their bag. And they all seemed to love them.
I tried out a few on the course, but got to thinking: TaylorMade-adidas Golf's worldwide headquarters are next door, so on Tuesday, when it was cold and rainy (a rarity in Southern California), I decided to stop by TaylorMade and see what all the fuss was about.
Sure enough, as I got a guided tour through the assembly plant, there they were, dozens of workers, making RocketBladez irons as fast as they could. Seems they can't keep them on the racks at retailers, especially around here. Naturally, I wanted to try them out for myself and I came to the right place. They had every possible combination.
So after a quick tour through apparel and shoes, we headed over to The Kingdom, a facility on the grounds where they do all kinds of custom work for their tour players and special VIP guests. As you might imagine, it's a sweet setup. Nice turf, targets, Trackman – all the good toys.
There are actually two versions of the RocketBladez – the regular ones for regular golfers, and the RocketBladez Tour, for the more accomplished amateur and professionals. Sure enough, these irons were easy to hit, and the misses went farther. But what I really liked about them is that you can still work the ball. It's hard to argue with that combination. Plus, from what I can tell, they went far, and everybody likes far, right?
TaylorMade has quite the technology story behind them as well. Mark King, CEO and president of TaylorMade, calls them the biggest iron innovation to date.
The main component is something the company calls the "Speed Pocket," inspired by the distance-enhancing benefits of the RocketBallz fairway woods and Rescue clubs. TaylorMade engineers incorporated the Speed Pocket into RocketBladez 3- through 7-irons to promote faster ball speed and a higher launch angle to promote longer, high-flying, quick-stopping shots. Altogether, the RocketBladez set consists of eleven individually designed clubheads, each tailored in size, shape and features to maximize distance, control and feel like never before.
Incorporated into the 3- through 7-irons, the Speed Pocket is a 2mm-wide slot in the sole of the iron that flexes and rebounds at impact, increasing the speed of the face to promote faster ball speed, a higher launch angle and a higher, stronger ball flight that lands on a steep, quick-stopping descent angle.
"Metalwoods have advanced tremendously since TaylorMade introduced the first one in 1979," said King. "The ball has advanced too, and even footwear and apparel have improved a great deal. But there hasn't been a significant advancement in irons since the perimeter-weighted cavityback was introduced more than 50 years ago. The Speed Pocket changes that – it's a once-in-a-lifetime innovation in the iron category."
In addition to the speed pocket, there's also TaylorMade's inverted cone technology, more perimeter and sole weight distribution and notches to make it easier to bend the hosels. The last point translates into custom lies.
In addition to the irons, I had to try out the drivers, of course, including the new R1. Get this: It has 168 different loft and face angle combinations. That's a lot of fiddling.
No feedback yet
Comment feed for this post
Leave a comment