What a weekend of golf for President Obama at the Floridian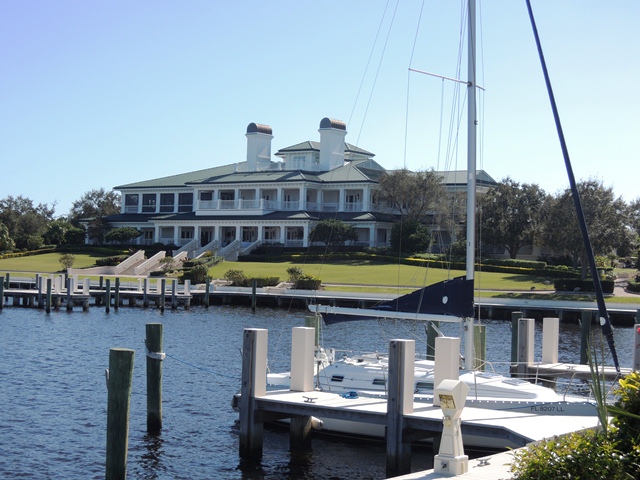 The Floridian clubhouse (Mike Bailey/TravelGolf)
I'm sure most of the right wing doesn't approve, but I wholeheartedly endorse President Obama's weekend on the Treasure Coast. After all, it's President's Day on Monday. He should get to do what he wants. And what he wanted was a great weekend of golf.
He's getting that at the Floridian Golf & Yacht Club, where ironically enough conservative radio host Rush Limbaugh, among others, was once a non-dues paying member when former owner Wayne Huizenga owned the place.
Of course, when you're the first golfer, it comes with an entourage and some golf buddies, which reportedly include longtime friend Eric Whitaker, White House trip director Marvin Nicholson, outgoing U.S. trade representative Ron Kirk, Houston businessman Tony Chase and Milton Carroll, who is chairman of Houston-based CenterPoint Energy. They're all guests of Floridian owner Jim Crane, who also owns the Houston Astros baseball team. And for good measure, Butch Harmon, whose name is on the golf academy at this exclusive club, was also on hand to help the Prez with his golf game. Not a bad weekend.
I was there not too long ago (you can check out my coverage here) and I got help from a Harmon as well, Butch's son. Claude Harmon III has built up a pretty nice reputation as a teacher over the past 20 years (He's Ernie Els' guy now) and now heads up the Butch Harmon Learning Academy at the Floridian. And let me tell you, that place is as state-of-the-art as it gets. They should have the lefty (swinging) President's head spinning right about now.
Now let me tell you, the Floridian's no Mitt Romney. This opponent is a lot more formidable, and it's really beautiful. When Crane bought the club from former Miami Dolphins owner Huizenga a couple of years ago, he brought Fazio in to redo the course because the original Gary Player design that opened in 1996 was a little too easy – and perhaps a little too blah. The new course, which is laid along the banks of the St. Lucie River, is just that – totally new. And it's really hard. Lots of water, native plants, wind, difficult greens and Fazio's famous deep bunkers. It was more than I could handle, but I loved it. A true golfer's test.
As a player, Crane can handle the new course, no problem, because he's really good. He just finished in a tie for third at the AT&T Pebble Beach National Pro-Am with Kevin Streelman at 29-under-par, and he was the guy carrying the team, even though he was getting just three shots. Crane still hits it plenty, long, too. He plays most everything from the tips and challenges par.
The magnificent clubhouse at the Floridian is new as well. And the cottages may not be the White House, but they're not too far off. There's also a 68-slip marina, a huge yacht, helicopter service and some of the best golf course food I've ever eaten.
Crane was at the club on Friday to welcome the President and reportedly was supposed to play him on Sunday.
"He came in late last night and was very cordial," Crane said on Saturday before an Astros spring training workout in Florida, according to mlb.com. "His staff is great and it's very exciting. I mean, when do you get the president staying in your place?"
By the way, this comes on the heels of another cool event at the Floridian recently. That one featured a bunch of World Golf Hall of Famers, including Arnold Palmer, Jack Nicklaus, Gary Player and Lee Trevino. They auctioned off memorabilia and a chance to play with the legends in an event raised more than a million dollars for Champions Tour player Dana Quigley's paralyzed son, Devon.
1 comment
Comment
from: Plantation PVB [Visitor]
That's great that President Obama had spend this weekend at Florida and had played golf also there..I can imagine what a lovely weekend it was for you.Playing golf makes us stress free.
02/18/13 @ 22:28
Comment feed for this post
Leave a comment