What I love about Pebble Beach and golf in northern California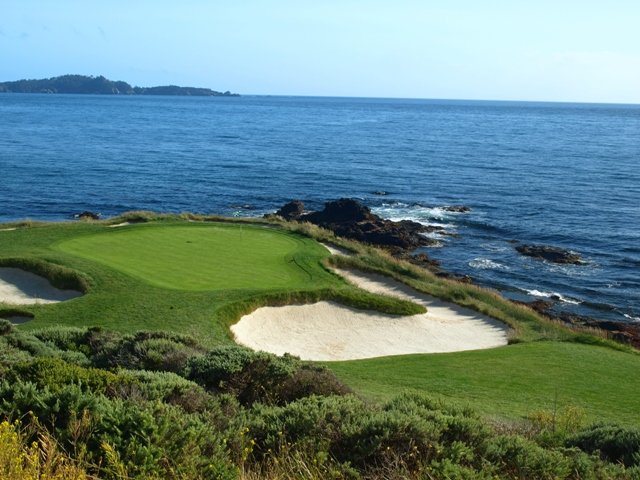 No. 7 at Pebble Beach (Mike Bailey/TravelGolf)
In my travels, I'm asked this all the time: "What's your favorite golf course and favorite golf destination?"
The answer to the first one always varies depending on mood, but I'm pretty consistent on the second question. If I'm looking for warm weather, it's Hawaii, but overall, I'd have to say it's northern California, which includes so many diverse courses and interesting experiences. Of course, it's also the home to the PGA Tour this week, the AT&T Pro-Am at Pebble Beach Golf Links, which should be on every golfer's bucket list. If you haven't been there – or better yet, played there – find a way. Start saving now, a few dollars a week. You won't regret it.
So let's start with Pebble. Yes, it's hyped, but I don't think it can be over-hyped. The views, the course – I don't even mind the six-hour rounds. If I'm going to experience slow play on a golf course, this is the one I want it on. Can't get enough of the seascapes, the salt air, the atmosphere. I'm never in a hurry. And there's nothing like grabbing a bite and a pint in the famous Tap Room afterwards. Nearby Spyglass Hill and Spanish Bay aren't too bad either. In Seaside, don't forget about Bayonet/Black Horse. And while you're in Monterey, head over to Pacific Grove to play the muni there. It's on the ocean, too, and only costs about $45 to play.
Up the road, just 45 minutes from San Francisco is Half Moon Bay and the Ritz-Carlton. There are two golf courses there. The last two holes on the Arnold Palmer-designed Old Course has views about as good as Pebble Beach, and for one of the closest things we can get to a links golf experience, the Arthur Hills-designed Ocean Course is a must play (views there are pretty incredible, too). Not to be overlooked, though, is the town of Half Moon Bay. Restaurants and shops are terrific. At Sam's Chowder House, I had a lobster roll that I'm still dreaming about.
Of course, San Francisco has some pretty good golf as well. We all know about the great private clubs there, like Olympic, but there are a couple of public venues that are pretty good, too. The TPC Harding Park, which has hosted the Presidents Cup for one, is a pretty good muni. And I also really like Presidio and Sharp Park. And don't get me started on the city's great restaurants, bars and other things to do. It's in my top three U.S. cities to visit even if I don't play golf (the other two are Miami and the Big Apple).
A little farther north you're into the wine country, another piece of California heaven. Last year, I had the pleasure of staying at the Fairmont Sonoma Mission and playing Sonoma Golf Club, which used to host the Champions Tour Championship. Needless to say, the wine and the food isn't a bad bonus.
In short, it's hard to beat the diversity of northern California, and the weather. Because while some like it hot, I like playing in air conditioning year-round, which you certainly get in most parts of NorCal.
No feedback yet
Comment feed for this post
Leave a comment