Golf gems at the PGA Merchandise Show in Orlando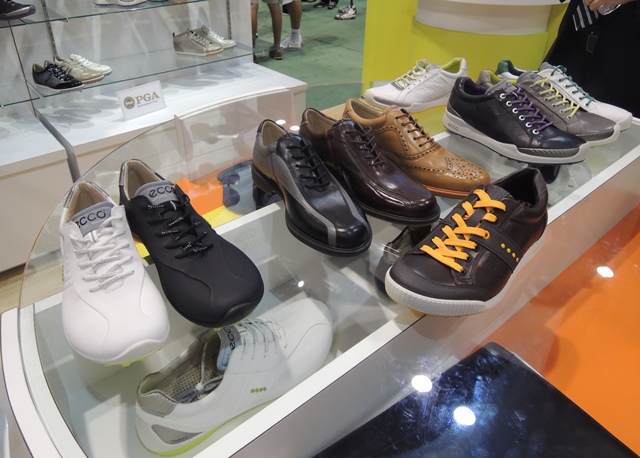 The latest from Ecco. (Mike Bailey/TravelGolf)
ORLANDO, Fla. – The PGA Merchandise Show is still the candy store for those in the golf business. With more than 1,200 exhibitors at the Orange County Convention Center, it's a chance to see just about everything in golf, from the latest in equipment and apparel, to all the funky little gadgets that may be here today and gone tomorrow.
There was no shortage of the latter – I saw some new biodegradable tees for example that came with complicated instructions on how to use them – but there are plenty of products we'll find plenty of use for in 2013, especially as traveling golfers.
For example, I checked out ClubGlove's Train Reaction System, which is a series of travel gear, including the golf travel cover, that all fits together for easy transport through airports. I also saw the latest Hybrid offerings from Ecco Shoes – perfect for on and off the course; some really nice layered outerwear from Cutter & Buck; and new sunglasses offering from Maui Jim and Scheyden.
But two companies I've been watching of late that had terrific shows were Nexbelt and SeeMore Putters. Nexbelt is the belt with no holes. These terrific looking belts use a ratcheting system for precise fits, and this year, the company is offering even more styles than before. Those guys had a small booth, but they could have used a larger one. It was super busy this week. At $50 retail, this may be the best belt value on the market.
SeeMore, of course, is the putter that Payne Stewart put on the map in 1999 when he won the U.S. Open. It uses a unique "hide the red-dot" system to ensure a good, on-plane putting stroke. The company went away for a while before it re-emerged with new owners about seven years ago, and now it's really starting to take off. The company has some terrific new milled models, and is now certifying instructors to help people with their putting. I think this idea has a lot of potential, and judging by the numbers at their booth during the show, so do others.
And of course, what traveling golfer doesn't need golf balls? There were plenty of new ones from every company, including the category leader Titleist, which means new ProV1s. I got a sample of those this week and will be trying them out in Sandestin, Fla., where the weather is perfect. New golf balls and plenty of sunshine mean no excuses. Can't wait to tee it up.
Feedback awaiting moderation
This post has 1 feedback awaiting moderation...
Comment feed for this post
Leave a comment