An amateur prelude to the Waste Management Phoenix Open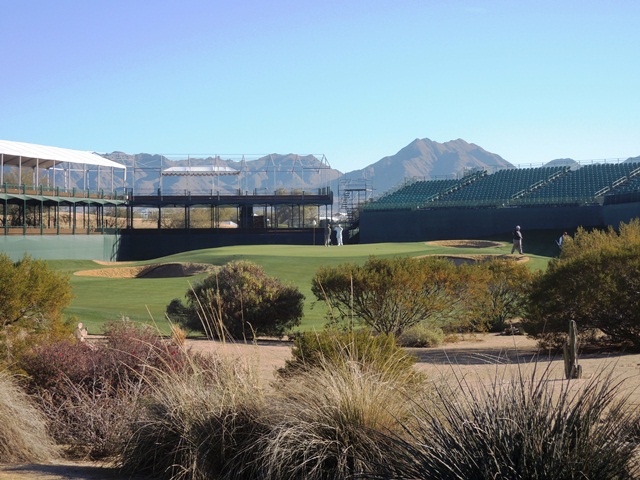 The par-3 16th at the TPC Scottsdale Stadium Course two weeks before the Waste Management Phoenix Open. (Mike Bailey/TravelGolf)
SCOTTSDALE, Ariz. – Congratulations to C.J. Weston and Jay Swansson. The local duo didn't let the cold weather this weekend in Arizona derail them from playing some great golf in pretty tough conditions in the gross flight of the annual Scottsdale Open, Presented by Waste Management.
These guys combined for a 68 (best ball) on Friday on the Monument Course at Troon North, then shot 70 on the Raptor Course at Grayhawk Golf Club before putting together a combined score of 148 on Sunday on the Stadium Course at the TPC Scottsdale for a 286 total over three days.
They were three shots clear of the second place finishers, Kyle Lohse, a pitcher for the St. Louis Cardinals, and Mark Mulder, a former pitcher for the Cardinals and analyst for ESPN.
In all, there were about 110 players in the amateur event, playing in gross, senior and open net divisions. Despite weather that barely reached 50 degrees every day, and several hours of frost delays, the event was a success. There were few complaints, despite having to wear several layers of clothing. Because while the weather was a bit nippy, the courses were in spectacular shape, including the TPC Scottsdale, which will host the Waste Management Phoenix Open in a couple of weeks.
One of the coolest aspects of playing the TPC was that the bleachers, for the most part, have been set up for the PGA Tour event. That included the infamous 16, where some 18,000 rowdy fans will cheer and jeer the players the week of Jan. 28-Feb. 3. They'll bet on which caddie gets to the green first, insult players and boo their bad shots, and cheer the really good shots.
There were only a few people around the hole on this day, but if you hit the green, you heard some light applause.
For me, the week also included meals and accommodations at the Fairmont Scottsdale Princess, Four Seasons at Troon North and Zona Suites, which just reinforces how strong a golf vacation spot Scottsdale really is.
No feedback yet
Comment feed for this post
Leave a comment