Fun at the Scottsdale Open; and we're not ashamed of our golf score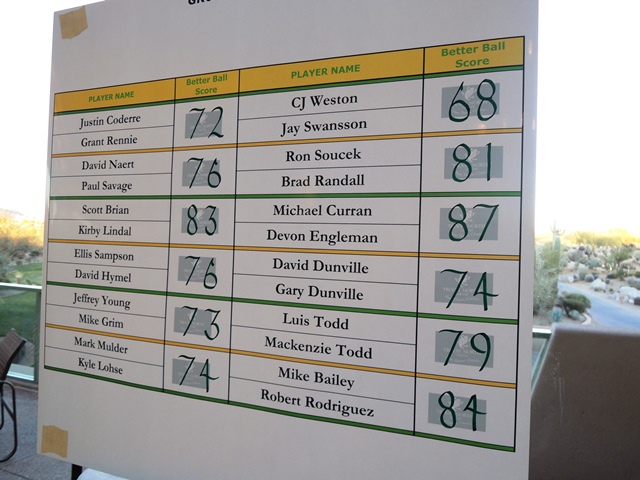 Notice that former pitcher Mark Mulder and current MLB pitcher Kyle Lohse turned in a respectable 74 on Friday. (Mike Bailey/TravelGolf)
SCOTTSDALE, Ariz. – Trouble came early and often during Friday's first round of the Scottsdale Open Presented by Waste Management.
"Are we playing the desert rule?" I asked after my partner hit his tee shot on No. 1 into oblivion.
"Nope," said Troon North's director of golf events, Mike Friend. "We usually do, but this is a tournament, so it's real golf."
In other words, my partner had to re-tee. This would be a day of provisionals, unplayables and all that other nonsense that's in the Rules of Golf, including no gimmes.
Since the format was two-person better ball, I could still redeem our situation with a tee shot in the fairway on the first hole, which I did, but then I hit my approach shot into the desert. In the end, we both made double bogeys, but at the end of the day, we avoided last place in the gross division(and our play was indeed gross), but not by much.
The Scottsdale Open is an annual two-person amateur event played on three different courses a couple of weeks before the Waste Management Phoenix Open. Our first mistake was entering the gross division, figuring our so-called single digit handicaps wouldn't do us much good in the net division anyway. Trouble is that they put the players like us who are full of themselves on the back tees – and I do mean back – on Troon North's Monument Course in Scottsdale. The temperature barely reached 50 and the long holes played into the wind. Our hybrids and fairway metals got a good workout.
And as Johnny Miller might say: Folks, there's golf and there's tournament golf. The latter is a heckuva lot tougher. Suddenly two-footers are nerve-wracking, especially when your partner is already out of the hole.
Then there was the cold. Fortunately, I had a jacket from Mobile Warming Gear. It has a battery operated heater. Hand warmers were essential as well, and my partner, Robert Rodriguez of AvidGolfer Magazine, bought some Foot-Joy winter gloves. After the round, I purchased a pair as well, for tomorrow's round at Grayhawk's Raptor Course. And then when I got back to my room at the Four Seasons Troon North after Friday's round, I filled an enormous tub with hot water and thawed out for a half hour.
The Four Seasons, by the way, is an incredible resort – great rooms, terrific dining and spa in a breathtaking setting. The new Proof American Cantina, with its laid-back rustic feel, is really cool. Its fantastic setup includes tin cups for coffee, shuffleboard and an outstanding menu of unique dishes and desserts from all around America.
But back to golf. We wound up shooting 84 with a triple and two doubles. Normally, I'd be ashamed, but it was hard, really hard out there. The par-3 16th, for example, played more than 250 yards into a cold wind. The par-4 17th was 495 into the wind (that's where the triple occurred).
We didn't cry, though, mostly because we were playing with great hosts, Mr. Friend and Marcos Ramos, a project coordinator with Waste Management (they served as our markers). Kudos to the kitchen staff at Troon North as well. The Kobe beef sliders were particularly delightful.
The leaders shot 68 on Friday. Those guys are a lot better than us apparently.
This tourney wraps up on Sunday at the TPC Scottsdale Stadium Course, the same place the tour guys will be at in two weeks. Our goal is simply to stay out of the cellar – and have fun doing it – and finish before the Texans-Patriots game gets out of hand on Sunday afternoon.
No feedback yet
Comment feed for this post
Leave a comment