Martin Golf: Nothing but the best, and that means cotton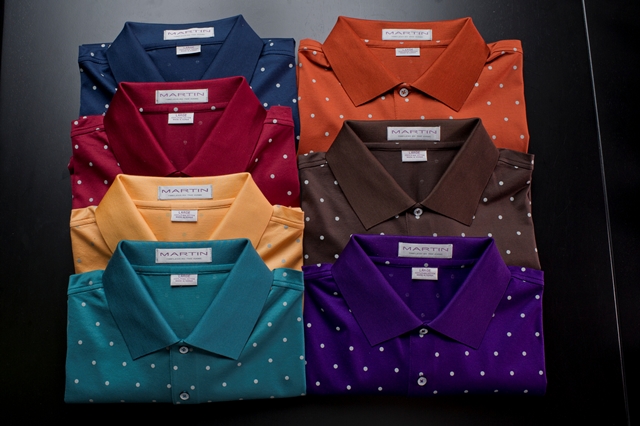 The Swiss Dot Collection from Martin Golf is, of course, made from cotton.
One aspect of golf that's always fascinated me is its sense of fashion and style. There have been times, of course, when golf seemed to lack in those areas – like the late '60s and '70s and perhaps even into the '80s. At the time, of course, the plaid pants, white belts and shoes and stiff collared, pastel shirts seemed perfectly normal – at least inside the golf world. For those of us on the outside, it seemed like a joke.
Today, it's a little different, I suppose. Anything goes in society, it seems, so some of the crazy schemes we're seeing on the tour today is more widely accepted than it was 30 years ago. But still, you have to ask, will today's golf fashions be in vogue 20 years from now? If you ask golf industry veteran Rick Martin of Martin Golf Apparel, he would have his doubts. If you ask him if his line of golf apparel would still look great for future generations, he's confident that it would.
In fact, Martin's style has been around for pretty much forever. He looks back to the likes of Gene Sarazen, Byron Nelson, Cary Middlecoff and Dow Finsterwald. What they wore back in the 1940s still looks good today. And not only did it look good on the course, he said, but it was stylish off the course as well.
"Those guys were the ones who inspired me," said Martin, who lives in Dallas and headed up Fairway & Greene before he sold the company in 2006. "Because what they were wearing was good taste clothing."
The other element to what they were wearing is that their shirts, in particular, were made of cotton. And at Martin Golf, which is aimed at the upscale private and resort market, you won't find any polyester, not in its shirts or sweaters. And everything the company does is designed go with Khaki. It's a timeless collection that some may think boring, but Martin and his followers think of as classic.
"To me, natural fiber is the only thing I want next to my skin," Martin said. "I don't want polyester. I don't want polyester sheets. Cotton is more comfortable."
Of course, the drawback to cotton has always been that it wrinkles and doesn't hold its shape or color well after washings. Fortunately, technology has come a long way in recent years.
"Even in the six years I was away, technology for spinning cotton yarns has improved drastically," said Martin, who launched Martin Golf Apparel in 2011. "We get a much more stable yarn from the spinners now. And we deal with only long staple cotton – the cotton ball itself produces a fiber that's longer than normal. And that's why our shirts have such a smooth quality to them."
Martin said the difference between his cotton shirts and others on the market – and there aren't many cotton shirts on the golf market these days – is that his have a certain luster. Plus, they don't wrinkle after laundering, nor do the colors fade.
Now, after offering its initial fall line earlier this year, Martin Golf Apparel is introducing its spring 2013 collection, and the company's focus on natural fibers doesn't waver.
"Our 100 percet Peruvian Pima Cotton is made of long-stapled mercerized yarn and the Baruffa Merino wool is the highest quality yarn from Italy," Martin said.
The spring '13 collection presents two distinct color palettes, Riviera and Costa Del Sol.
"One of the fundamental philosophies that I have developed over a lifetime of experience in the apparel business, is choosing colors that complement and flatter a variety of skin tones," Martin said.
Martin Golf is also introducing an updated classic style – the woven popover sports shirt, a look that is casual when worn as a stand-alone piece, or can be dressed up with a cardigan or a navy blazer.
"The popover is a classic 50-year-old traditional model for the discerning gentleman, and will be very much part of our future" says Martin, "A Martin Golf popover is the perfect casual sports shirt to wear off course after a round of golf."
Other notable styles include the Solid Royal Oxford long sleeve button down and the Palm Cove Stripe lisle polo, both styles offered in the Costa del Sol color palette.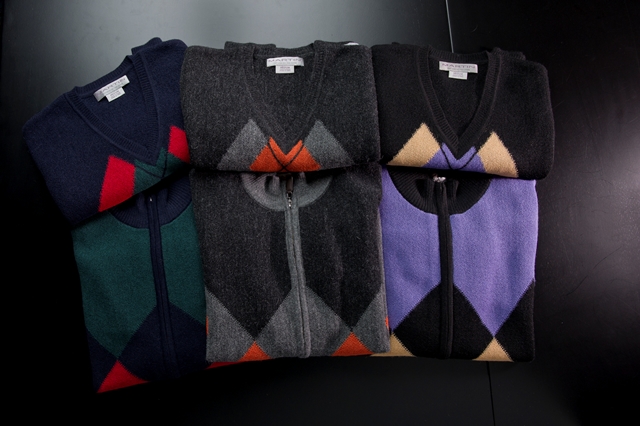 Martin Golf's Alpaca cardigan sweaters and vests preserve golf's classic looks.
1 comment
Comment
from: Golf Apparel Singapore [Visitor]
A excellent post, there is so much out there for men.
03/27/13 @ 20:53
Comment feed for this post
Leave a comment