Thriller golf vacation package at the Stratosphere Tower in Las Vegas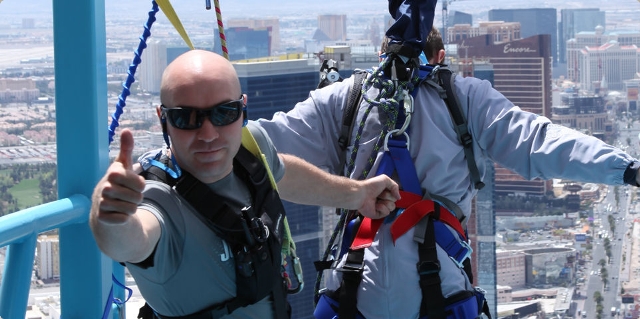 Strapping in for the SkyJump off the Stratosphere (courtesy/StratosphereHotel.com)
If you like thrill rides, you'll love the Stratosphere Las Vegas Casino, Hotel & Tower.

First off, the tower is 1,149 feet into the Vegas skyline. Throw a few scary rides on that platform, and well, you get the picture.
The newest thrill is SkyJump Las Vegas, a controlled free fall that sends you jumping off the 108th floor. There's also the Big Shot, X-Scream and Insanity. It doesn't take much imagination to figure out all these are probably much scarier than anything you encountered on Halloween.
Golf can be kind of a thrill ride, too, and Walters Golf, in conjunction with the Stratosphere, is offering a package that combines accommodations at the Stratosphere and its imaginative golf courses.
Through Feb. 28, the Ultimate Strat Golf Package is offering customers $50 off on rounds at Bali Bai Golf Club, Royal Links Golf Club and Desert Pines while staying the Stratosphere Las Vegas Hotel & Casino for as little as $26 a night.
The courses are unlike anything else in Las Vegas. Bali Hai, which is located right on the Strip, has a really cool South Pacific theme, complete with palms, tropical plants and plenty of white sand and water. Royal Links is a terrific tribute course to the best of the British Open courses, featuring holes inspired by the Old Course at St. Andrews, Carnoustie and Royal Troon, to name a few. And Desert Pines, a Dye Design, features thousands of imported Carolina Pines and perfect bentgrass greens.
Combine that with staying downtown at one of Las Vegas' most recognizable landmarks, and you've got a pretty exciting golf package.
For more information or to sign up for the Ultimate Strat Golf Package, click here.
1 comment
I wish I could have been there, I've gone through a lot of golf destinations but not in Stratosphere Tower in Las Vegas, maybe I could be there someday soon!
01/06/13 @ 23:09
Comment feed for this post
Leave a comment