Dallas TopGolf a tasty experience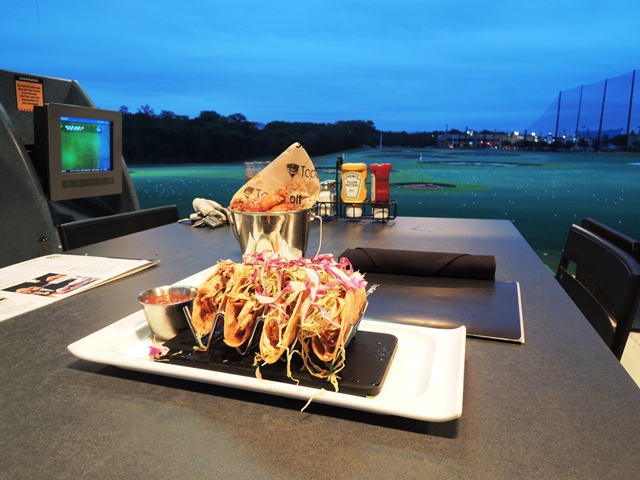 Street tacos and wings at TopGolf (Mike Bailey)
DALLAS – It isn't a golf course and really isn't a driving range, but involves real golf balls with real clubs. Most of all, anybody can play it at almost any time, and you don't have to wear a collared shirt.
Welcome to TopGolf. To call it the future of the game might be a stretch, but I think it can be a key component in growing the game. The reason is because it re-invents the golf experience, and it welcomes players of any level. No matter how good or how bad you are, this is something every golfer can enjoy the together.
I finally got to check out TopGolf this evening in Dallas, where the company is now headquartered and has two area locations. I'm not sure what Bobby Jones would have thought of this, and I'll be the first to admit that I get more satisfaction out of playing on a real golf course, but this was a really cool experience, especially when you consider all the extras.
TopGolf is an indoor/outdoor golf complex that uses chips in balls and electronic scoring. Each player in a bay – you can have up to five players in a bay – hits to dartboard-like targets, which have antennas that sense each individual ball, which are linked to individual golfers. Scores are electronically posted to a screen in the bay area. Each game consists of 20 balls. The targets are 20 to 250 yards away, and there are several types of games to choose from.
Each bay can be reserved by an individual or a group. There are TV screens and an extensive food and drink menu. An individual game, which costs $7 (or less with a discount card) , can be completed in 10 to 15 minutes. Clubs are provided for players who don't bring their own. Customers can also take lessons from golf professionals or get club fittings (and yes, you can just beat balls if that's what you want to do). But best of all, there are flat screens everywhere. The World Series and NFL football were on Thursday evening. There's also a DJ, and on Friday nights at the Dallas location, live music.
Oh, and the food is really good here. I would come here just to eat. The wings are every bit as tangy as they are at Buffalo Wild Wings, and the street tacos are pretty tasty too. And yes, there are some healthy items like salads and wraps as well.
TopGolf was invented in England by Steve Jolliffe and his twin brother Dave in the late 1990s. There three locations in the United Kingdom and four locations in the United States - Alexandria, Va., Wood Dale, Ill., Dallas and its newest location in Allen, just outside of Dallas. The next location, TopGolf's biggest yet, will be in Houston near I-10 and Highway 6, scheduled to open in December. TopGolf is expecting to open another facility in Austin, Texas, in early 2013 and several others over the course of the next five years, including one in Las Vegas.
The Allen location, which has 94 hitting bays over three tiers, drew more than 350,000 visitors last year. The Dallas location, has two tiers, also has a special "Lux Suite," which can be rented for $2,000 for three hours (covers 15 guests). It includes bartending services, food and a special atmosphere that can be changed according to themes. And because the bays are covered – and heated – the outside weather really doesn't matter than much.
"We have a great four-star experience here," said Jeff Sugden, assistant GM at the Dallas location. "Great meals, great energy. It's where you can take your family, your business associates – there's something for everybody. It's a great experience."
Sugden is absolutely right. On weekends, groups sometimes wait for a couple of hours or more to get a bay. No problem, of course, there's plenty to do while they wait, including getting a drink, watching some sports or having dinner.
Yep, I think these guys are on to something. They'll probably be all over the country before we know it.
And that's good for the game.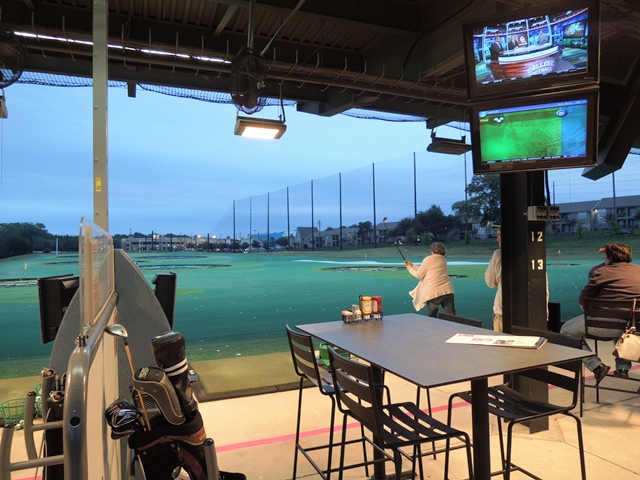 Looking down the fairway at TopGolf Dallas (Mike Bailey)
No feedback yet
Comment feed for this post
Leave a comment