Golf Las Vegas in style: Stay at Mandalay; play at Bali Hai and Royal Links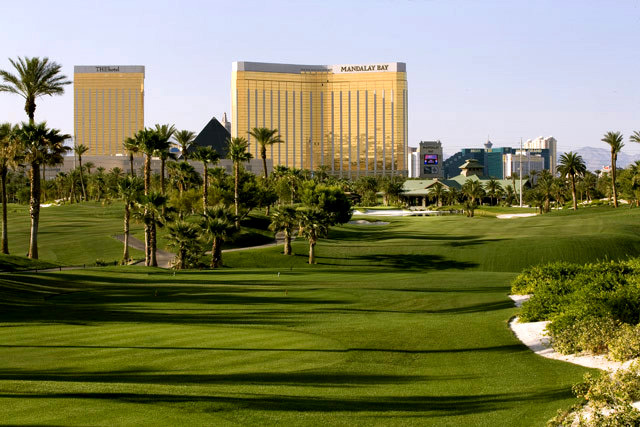 One of my favorite places to play golf in Las Vegas is Bali Hai Golf Club. And one of the reasons is because it's right on the Strip. Besides it being a fun golf course, you also get all these great views of the casino resorts, including Mandalay Bay right next door.
So what could be better than staying at Mandalay Bay and playing golf right off the Strip? How about adding another round of golf at Royal Links Golf Club? A two-night package including two rounds of golf can be had for $499. You can book your package here. Just scroll down to the Mandalay Bay offer.
Mandalay Bay is what modern Las Vegas is all about. It's a Four Seasons resort, so you know that part is good, plus it offers great dining from the world's most recognized chefs at restaurants like Aureole, and Charlie Palmer's Steakhouse, Fluer by Hubert Keller and Lugo by Wolfgang Puck. There's also the Shark Reef, incredible pools, the Moorea Beach Club with "toptional" beach, great shopping, first class entertainment and a spa experience you will never forget.
Then there's the golf courses.
Bali Hai G.C. is one of the best conditioned courses in Las Vegas, but what's really cool is that this South Pacific-themed golf course features thousands of tropical plants, more than 2,500 palm trees, acres of crystal white sand and plenty of water features, including streams and fountains.
You'll also enjoy dining at the popular Cili Restaurant & Bar inside the 32,000 square foot, Balinese themed clubhouse. Forecaddies are also available.
Royal Links G.C. is about as close as you can get to British Isles and not leave the desert. The course is a collection of holes that pay tribute to the great courses of the British Open rota, such as the Old Course at St. Andrews, Turnberry and Royal Troon.
To complete the experience, there's Royal Links' castle-like clubhouse, where you'll find an authentic Scottish pub that offers old world whiskies and ales. Forecaddies are also available at Royal Links as well as the gorgeous female Parmate caddies, who will help you get around the course in style.
No feedback yet
Comment feed for this post
Leave a comment