Feeling like as pro on the Golf Channel Am Tour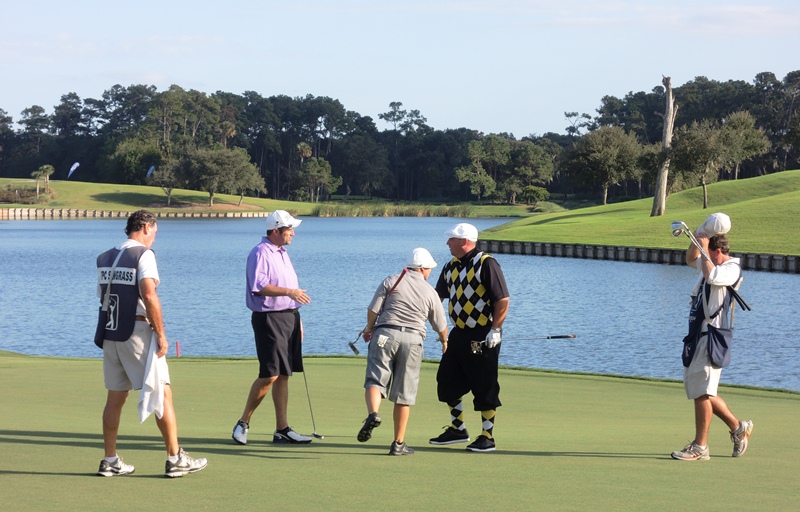 PONTE VEDRA BEACH, Fla. – For the past week or so the tour has been At the Sawgrass Marriott Resort & Beach Club. Not the PGA Tour, mind, but this is a pretty big deal, especially for the record 1,135 competitors playing at the Golf Channel Am Tour National Championships.
The whole idea of the Golf Channel Am Tour is to give everyday players a professional tour-like experience, throughout the year in regional events and in the national championship, which is broken down into six flights through senior and open championships. And that's exactly what they got this week.
And the players have reciprocated. You look at some of these guys and you really do start to wonder if they do play on some kind of professional tour. In fact, the overall winner, Brian Beach, has those aspirations. He intends to build on his stellar Am Tour year and try his luck at PGA Q School.
But for most of them, this is just fun, dressing up like a tour player, using caddies, etc. Many of them wore slacks, for example – and there was no shortage of trendy white belts. And that's one of the fun things about golf; it's not just how you play, but how you look.
In fact, this morning I ran into several groups that had nothing but big bulky staff bags, just like the tour guys. The head covers are just as imaginative, too. Some of the older competitors are wearing the Loudmouth pants, ala John Daly, some have Plus Fours, and there might even be a Ricky Fowler lookalike here and there.
But it all starts with how this thing is run. I might be a little biased, considering whom I work for, but I couldn't be more impressed with how professionally this event is conducted. Played on four golf courses – the Players Stadium and Dye Valley courses at TPC Sawgrass, and the Ocean and Lagoons courses at Ponte Vedra Inn & Club – there's an announcer on every first tee calling out names and hometowns, receptions every night, including a terrific welcome dinner that featured Golf Channel on-air personalities; a skins game; plenty of gifts and prizes; and a website that includes each player's standings, statistics, record on the tour, bios and so much more. They've also been running Am Tour results on the scroll at the bottom of screen of Golf Channel telecasts.
Another thing I really like about the competition is that everyone turns in a gross score. You just compete against the players in your flight, but there are no net 54s being shot out there. And for the most part, I'm told, there's virtually no sandbagging, and the Am Tour polices that vigilantly.
In the end, though, this is about golfers living the dream, no matter how good they are. You really do feel special here, and the players, which have come from as far away as Hawaii and Winnipeg, Canada, make friends who will last a lifetime.
Plus, the camaraderie and sportsmanship has been remarkable. While there have been disputes on the course (how could there not be with this many players?), the stories of goodwill far outweigh the problems.
Earlier this week, I overheard one player tell his fellow competitors long after his round was over that he thought he made a mistake scoring a hole and he was going to go back and tell an official, which would mean a disqualification. I'm not sure how that turned out, but one of his playing companions told him, "I really respect you for being forthright."
Said Ed Lewis, of Currie N.C., "Guys like him I'd play with any day of the week."
1 comment
What the heck does this mean?

Feeling like as pro on the Golf Channel Am Tour
09/17/12 @ 20:50
Comment feed for this post
Leave a comment