Cool new additions to The Old American Golf Club near Dallas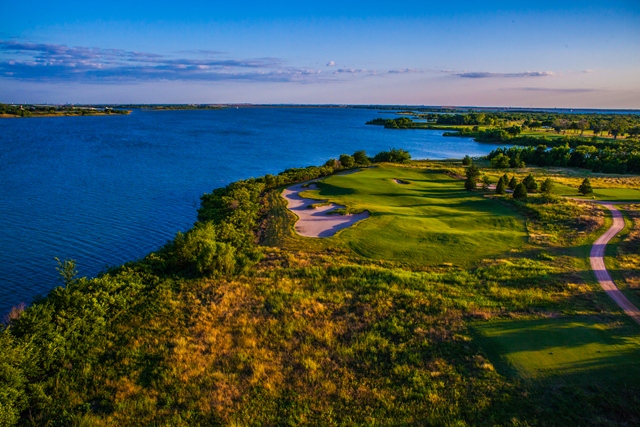 Old American Golf Club pays homage to classic American architecture.
Here's some good news from one of the most intriguing golf courses in Texas – The Old American Golf Club at The Tribute just north of Dallas:
The course – which is across from the original and really fun Old Course at The Tribute – has a new clubhouse and a new 30-acre practice facility as well as some other tidbits to go with the terrific and unusual 2010 Tripp Davis/Justin Leonard design that pays homage to classic American golf architecture.
The Carriage House, as it's called, blends territorial design and modern amenities to create a comfortable, welcoming atmosphere. The building was modeled after clubhouses from the "Golden Age" of golf course architecture (1911-1937), the time period that inspired The Old American's layout.
It is being expanded further to better accommodate and serve members and daily fee play, and its outdoor seating makes Old American the perfect place to catch a post-round drink, or even an entire NFL or college football game.

The new practice facility includes a double sided range, guru Marius Filmalter's golf school, short game area, target greens, practice bunkers and more.
By the way, several Dallas area PGA Tour pros have made their way out to Old American. Rod Pampling is officially playing out of "Old American," citing the tour-caliber layout and design. Other regulars include K.J. Choi, Y.E. Yang, John Senden, Steven Bowditch, Paul Stankowski, and Nathan Green.
Green, winner of the 2009 RBC Canadian Open, holds the course record at Old American. Green fired a 4-under-par 67 in February, breaking the previous record of 68 held by Leonard and K.J. Choi.
There's also a soft opening of new restaurant going on this week. The chef is creating daily specials and beta testing them on golfers for feedback as the menu will be created from their feedback. Initial offerings included Cuban sandwiches, meatloaf sandwiches, and steak burritos.
Also, owner Jack Matthews did something else unusual. He had the floor of the new restaurant created from a re-purposed basketball court. And the new cart barn is literally that: an old barn his son found up in Michigan. They had it torn down, shipped, and rebuilt onsite. Permits are in place and re-construction will begin soon.
Another cool feature is that the course now has underground trash cans. Anyone who's ever had their chips or sandwich stolen by a squirrel or bird can appreciate that.
No feedback yet
Comment feed for this post
Leave a comment