Pronghorn Golf Club in central Oregon ups the ante with hiring of Mahoney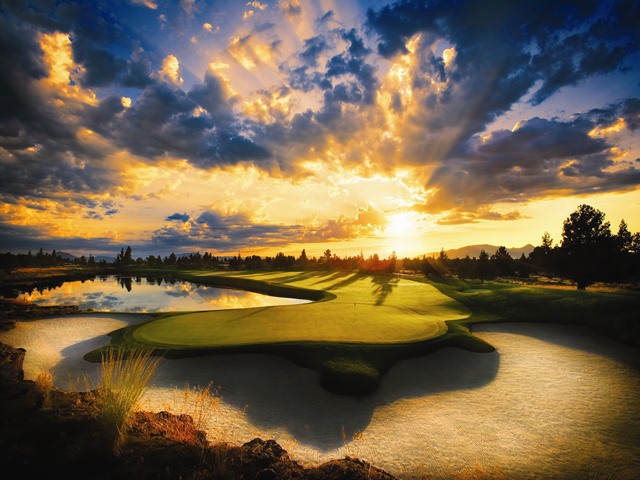 The 13th on the Nicklaus Course at Pronghorn (Courtesy Pronghorn Club and Resort)
BEND, Ore. – Coming back to Oregon has made me realize what a great golf state this is. There's Bandon Dunes, of course, on the southern coast and Pumpkin Ridge near Portland, and then there's central Oregon, which has a collection of courses and scenery that's hard to beat anywhere in the country.
At or near the top of that list has to be Pronghorn Club and Resort, situated on the high desert with terrific views of snow-capped mountains on the horizon, even in the summertime.
The resort/development has both Jack Nicklaus and Tom Fazio signature designs, and they are both spectacular. Pronghorn's Fazio Course is mostly private (open to extended stay resort guests), while the Nicklaus Course, the more difficult of the two, is open to the public.
And if the golf courses weren't enough, the setting, the clubhouse, the food, the hospitality is all first-class.
The instructional program is pretty good here, too, and it just scored some more points with the recent hiring of Tim Mahoney to head up its golf school. Mahoney, who has been ranked perennially on Golf Digest's 50 greatest instructor list, is the director of education for Troon Golf and teaches at Talking Stick G.C. in Scottsdale, Ariz., in the winter time. His list of students over the years has included such players as David Duval, Billy Mayfair, Tom Kite, Pat Hurst and Payne Stewart. He's also learned from some of the best instructors in the business, like Peter Kostis, Chuck Cook, Paul Runyan and Jim Flick.
"I'm thrilled to get to spend my summers at Pronghorn enhancing an already impressive and well respected golf operation," Mahoney said. "Pronghorn offers two of the most stunning golf courses and one of the best practice facilities I've ever seen."
The resort also offers fine dining, a spa and 48 suites in its luxury lodge. There are also plenty of real estate opportunities for those who like the perfect summer getaway.
No feedback yet
Comment feed for this post
Leave a comment