Beyond golf in northern California: They sure know how to cook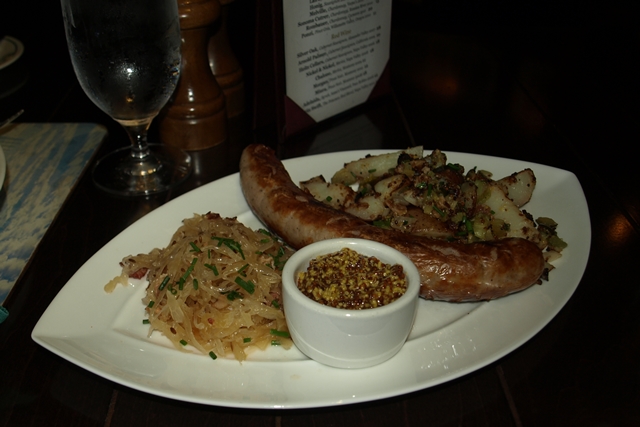 The bratwurst plate at the Tap Room at Pebbel Beach.
FAIRFIELD, Calif. – From Half Moon Bay to Carmel and Pebble Beach to Fairfield, Calif., this has been one memorable trip. The golf has been great, to be sure, but my favorite memories from this excursion might be the food, starting with the Ritz-Carlton Half Moon Bay.
The farm-to-table offerings at the Ritz-Carlton's Navio Restaurant were certainly memorable, and we would expect nothing less from a hotel with that kind of reputation. But the dining experiences continued to amaze from there, and that included the golf courses we've played the past few days.
Back to Half Moon Bay and the Half Moon Bay Golf Links (which is separate from the Ritz-Carlton): Fantastic soups, sandwiches, fish and cold beer on tap make this golf clubhouse one of the best in the area. Breakfast, which included what looked like a pint of blueberries on two overstuffed waffles, was impressive.
A couple of miles away, the town of Half Moon Bay is loaded with great restaurants like Sushi Main Street, Pasta Moon and Sam' Chowder House, where I had a lobster roll I won't soon forget.
The next night, we had snapper and fresh salmon at Gilbert's on Fisherman's Wharf in Monterey, and the next morning it was one the best breakfasts (albeit a little pricey) I've ever experienced. That came at Em Le's in Carmel. The fruit with the omelet tasted like it was picked fresh in the backyard, but what the restaurant is known for is its special battered French toast, which looks sort of like a combination of beignet and funnel cake, but tastes better than it looks. Served with a homemade syrup, this is a once a year-type treat for most of us, but well worth it if you plan to do a lot of walking later afterwards, which is exactly what we did – until we walked to our next meal, which occurred at the famous Tap Room at The Lodge at Pebble Beach. With all the photographs on the wall, memorabilia and views of the 18th and Carmel Bay, there might not be a better place in the world to get a beer, a soup and sandwich and in my case, bratwurst with warm potatoes and sauerkraut. (Goes pretty good with Guinness, too).
Pebble Beach was hosting a college football coaches golf tournament at the time. In fact, I was introduced to Texas Christian University coach Gary Patterson. A nice fellow, to be sure, but how could you not be in a good mood at this place. Plus TCU will finally get its shot at a national title, entering play this fall as a new member of the Big 12 Conference. I wished Gary well (as if he needed it).
And finally, today I finished playing a couple of courses in Fairfield, which is about 45 miles from San Francisco, just outside of Napa Valley. I really liked both courses – Paradise Valley and Rancho Solano – but only tried the grub at Paradise Valley's sports grill, which is called Legends and Hero's. Not surprisingly, we weren't disappointed, both in the food and the service. And there are TVs everywhere for those who just want to come in and watch the games.
No feedback yet
Comment feed for this post
Leave a comment