Ritz-Carlton Half Moon Bay -- an extraordinary American golf experience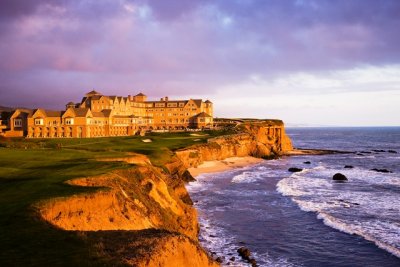 HALF MOON BAY, Calif. – If you want to get a feel for the golf experience at the Ritz-Carlton Half Moon Bay and Half Moon Bay Golf Links, think Pebble Beach and Bandon Dunes in terms of striking scenery. Pebble Beach, which should be on every golfer's bucket list, is, iconic. Bandon Dunes is pure golf. But the Ritz-Carlton Half Moon Bay is a combination of luxury, pampering, fantastic dining and a great 36-hole golf experience.
This is a trip I jump on when I have the chance. Leaving the 90-degree heat of Houston to put on a pullover and slacks is a small part of what makes this place special. The Ocean Course, though it isn't true links, is for all practical purposes a seaside links experience, ala Scotland or Ireland. You have to play the elements as well as the course, and you have options on every shot. In no way shape or form does this Arthur Hills creation limit your creativity as a golfer. The other course, the Old Course, isn't too shabby either, especially the finish above the cliffs overlooking the Pacific Ocean underneath the hotel. The views on many of the holes of both courses are breathtaking.
To no surprise accommodations and service at the Ritz-Carlton are better than first-rate – you catch yourself asking if you really deserve to be treated this well. It's part of the Ritz-Carlton DNA and training. You'll never be disappointed, whether it's the spa, the views from around the outdoor fire pits, the rooms, the fitness facility, the staff, and even the tennis.
And the dining here is off the charts. My dinner partner, who lived in the New York City area for 20 years, rated the resort's Navio restaurant among the best dining experiences of her life, and I'd be inclined to agree with that. A lot of restaurants claim to be "farm to table," but Navio at the Ritz-Carlton takes it to another level with at least seven farms in the immediate vicinity, many of them serving San Francisco's best about 45 minutes north of here.
From its incredible beet salad and ahi tuna tartar appetizer to main courses like California King Salmon, Maple Farms Duck and 48-hour braised short ribs, you can't go wrong with anything on menu. It's cooked to perfection, presented impeccably and complemented by a wine selection among the finest in the northern California.
A bargain golf vacation you won't find here at the Ritz-Carlton Half Moon Bay. You're just get what you pay for – perfection.
No feedback yet
Comment feed for this post
Leave a comment