Texas Golf: A higher level of service at The Lakes at Castle Hills near Dallas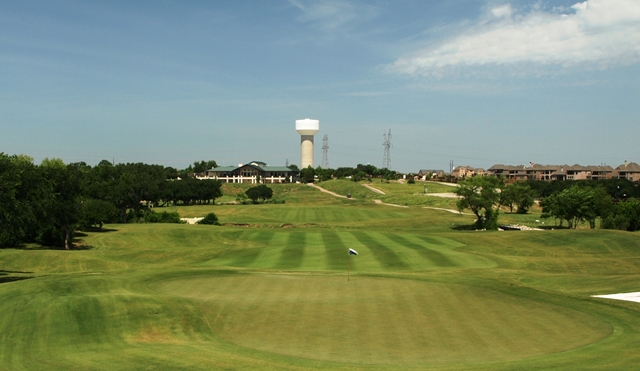 The 10th at The Lakes at Castle Hills (Mike Bailey/TravelGolf
LEWISVILLE, Texas – The concept is called "country club for a day," but what they do at The Lakes at Castle Hills near Dallas goes further than that.
The Lakes at Castle Hills is the "very exclusive country club for a day," and it comes on a terrific golf course that just recently underwent a renovation.
Updated last fall with flawless Mini-verde greens, new bunker sand and lakes and waterfalls, this 7,152-yard Jay Morrish-designed course is good enough on its own to command premium green fees. But the experience goes way beyond, starting with complimentary valet service ?- and that service continues throughout the golf experience and doesn't stop until you leave.
The $130 weekend green fee also includes food and non-alcoholic beverages, and the food is more than just hot dogs and chips. I had an excellent veggie burger; my playing partner had a tasty salmon burger, and we didn't have to wait at the turn. It was brought out to us on the course.
The practice facilities are also some of the best I've seen anywhere. With a full-time attendant, you don't have to worry about keeping your clubs clean, the lies on the grass range are flawless and the short-game areas are PGA Tour quality. There are even training and warm-up aids you can use as you loosen up and Starbust candies if you need a little energy.
The club will host both the Texas State Open this year as well as the Texas Women's Open, which is the first time the same course has played host to the two events in the same year. It's also the new headquarters of Hank Haney's golf schools.
Honestly, this is one of the better courses I've played in some time, and it's one of the better golf experiences I've had anywhere. They're not trying to do 50,000 rounds here either. Today we were one of only a handful of groups on the course.
If you're in the DFW area, check it out while you still can. The goal is once they get enough members, it will go fully private. And then it really will be exclusive.
By the way, don't miss GolfTexas.com's Dallas golf guide.
No feedback yet
Comment feed for this post
Leave a comment