Spring training baseball, golf and adult milkshakes in Arizona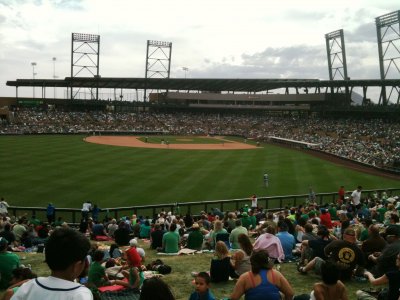 SCOTTSDALE, Ariz. – What's not to love about the Valley of the Sun in March? There's baseball, baseball and more baseball, and as I was reminded by the people next to me at a spring training game yesterday at Salt River Fields at Talking Stick Ballpark, a golf scene that's hard to beat as well.
Not only are there so many good courses in the Phoenix/Scottsdale are – like Troon North where I played on Friday – but everybody here plays golf, it seems.
This has also been the week of the RR Donnelly Founders Cup on the LPGA Tour. Conducted at the Schmidt-Curley designed Wildfire Golf Club at the JW Marriott Desert Ridge Resort & Spa, this event has turned into a four-round tournament in its second year. It'll be on the Golf Channel today at 4 p.m. Check it out; it should be interesting, especially since the weather turned wet and cold today.
The rest of this week, however, has been perfect weatherwise, which is the norm. Lots of sun combined with courses in unbelievable shape make for the perfect golf vacation.
My week started at the fairly new Talking Stick Resort with a little golf and dinner at the resort's fabulous Orange Sky Restaurant. (I also played SunRidge Canyon Golf Club.) Not only is the food outstanding, but the views from this 15th floor restaurant are pretty memorable, too.
Yesterday, I got a chance to see baseball at the new Salt Water Fields at the Ballpark at Talking Stick. It's the Cactus League spring training home of the Colorado Rockies and Arizona D-backs. Just east of Scottsdale, this 11,000 seat stadium was rocking with a sold-out crowd and a pretty good baseball game that ended with a walk-off homer by the Rockies to beat the Dodgers, 8-6. It was a pretty good way to follow a morning round at the Phoenician Golf Club.
And speaking of the Phoenician, that's been home the last two days. This is the standard by which many luxury resorts are measured. Last night, though, we tried the resort's Relish Burger Bistro at the golf clubhouse.
It was no big surprise that the Kobe beef burgers were a significant step above Thursday's dining experience at In N Out, which isn't too bad either. But the adult milkshakes at Relish Burger Bistro really set things off. With a little bit of vodka or other spirits, they have a little more kick than the ones at In N Out, too.
1 comment
I thought Faldo and Palmer designed the Wildfire Golf layouts.
03/18/12 @ 22:29
Comment feed for this post
Leave a comment