New Cleveland Tour Classic driver more than just a throwback to golf's good ole days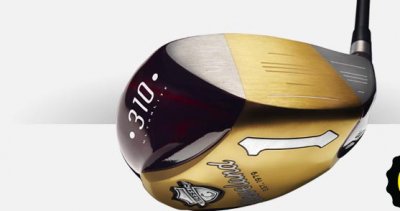 Sometimes you have to look backwards to take a step forward. That's sort of the case with the new Cleveland Tour Classic driver ($379) I've been playing with lately. With a retro classic look wrapped up with some dynamite technology, this is unequivocally the best driver I've ever had. And it came just in time.
For the past couple of years, I just haven't found anything that's given me confidence. In fact, I haven't had a driver that I've been in love with since my Titleist 975 went out of commission almost a decade ago. What I liked about that driver is it was easy to work the ball both ways. The trouble with so many of these jumbo drivers today is that it's hard to feel the clubhead. Not so with the Cleveland Tour Classic.
First of all, it almost looks like an old persimmon with its coloring and gold faceplate and soleplate. Secondly, the clubhead, though it's 440cc, seems smaller with its pear-shaped head. The deep face is what gives it size, but it doesn't seem unwieldy. At address, this thing looks like a driver you can hit, not something you have to manage.
Of course you want two things primarily from a driver – accuracy and distance – and the Cleveland Tour Classic delivers both. One of the explanations is something Cleveland calls MaxCOR2 technology, which basically translates into a really hot face, even for off-center hits. Most companies make this claim; the Cleveland Tour Classic really delivers. (Just ask Keegan Bradley, who is averaging nearly 300 yards on the PGA Tour this year.) It also has an ultra-thin crown, rear weight slug to lower the center of gravity and a sole rib that tunes the sound and feel.
The Classic Tour is also really lightweight, just 310 grams. Combine that with the really cool Miyazaki Kusala Black 61 graphite shaft and Lamkin TourLite 46 gram grip and you've got a club you can swing really fast. The Kusala Black also produces a penetrating trajectory with very stable feel.
I took it out to the range the other day and let several good players hit it. They all loved it. And when I played golf with it last week, I was getting a good five to 10 yards of extra distance with it. In short, the tee shot has become fun again.
1 comment
Comment
from: Mr P A Leverton [Visitor]
I brought this a couple of weeks ago. I tend to hit the ball high with a driver and so I was looking for one that would get the ball to fly low. I wanted the 8.5 loft head but could not get one in Europe. I then went with the 9.5 head but got the xtra stiff shaft. I am still getting used to hitting with it but I have already reduced the height of the ball, and the accuracy and distance are both there. In 33 years of playing golf and using a driver from the beginning, I can honestly say this is the best I have had.
06/04/12 @ 01:02
This post has 42 feedbacks awaiting moderation...
Comment feed for this post
Leave a comment