Branson, Missouri-area golf courses are open and virtually untouched by tornado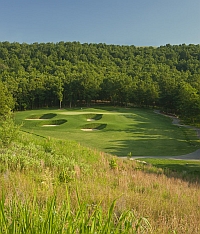 When the news came on Leap Day this year that Branson, Mo., was hard-hit by a tornado, my first thought after I heard nobody was killed was how the theaters fared on the Branson Strip. My next thought, quite naturally, was about the golf courses in Branson, since I've played a number of them, including courses like the John Daly-designed Murder Rock Golf Club (above).
Of the latter, apparently the golf courses came through rather unscathed. As far as the theaters go, the shows are going on despite there being some damage on the Strip.
There was also significant damage to the Hilton Hotel & Convention at Branson Landing. The convention center will be up and running in 30 to 60 days and many of the meetings have been moved to other locations in the area. In all, 22 of the 200 hotels received minor damage, and six of the 50 theaters were affected, but most shows have already moved to other locations.
The bottom line is that Branson is open for business, both on the entertainment and golf front, and it's getting things back together quickly. In fact, plans for the 100th Anniversary celebration in historic downtown Branson on April 1 are continuing as normal.
With that said, this is a good time to share that the golf in the Branson area is pretty good, and combining it with the wholesome entertainment on the Strip (I said wholesome, not boring), it makes for a pretty good, and reasonable, vacation.
The Branson area landed three courses on Golfweek magazine's "2012 America's Best Courses You Can Play" in Missouri, which was released digitally yesterday. Those Branson courses are: Payne Stewart Golf Club (No. 1), Branson Creek Golf Club (No. 3) and LedgeStone Country Club(No. 4).

"These 'best-of' honors highlight a few of the options and values available in Branson, some of the many very fine courses available to visitors," said Ross Summers, President/CEO of Branson/Lakes Area Chamber of Commerce and CVB.

In addition, Payne Stewart Golf Club includes a museum-like clubhouse with trophies, pictures and other memorabilia from the former U.S. Open champion, who grew up in nearby Springfield, Mo.

LedgeStone offers players a remarkable Ozark Mountain golf experience, with memorable risk-reward holes, dramatic views, and the service level of a private country club. In addition, LedgeStone's pro shop has received numerous awards for merchandising.

And Branson Creek, designed by Tom Fazio, is carved out of rolling terrain. The course is brawny and scenic, with multiple sets of tees that allow all level of player to enjoy their game.
With more than 22,000 lodging and hotel rooms, Branson offers every style and budget, and there are many golf stay-and-play packages available. (You can follow Branson Golf on Facebook.)
No feedback yet
Comment feed for this post
Leave a comment