Mississippi's Fallen Oak Golf Club doesn't disappoint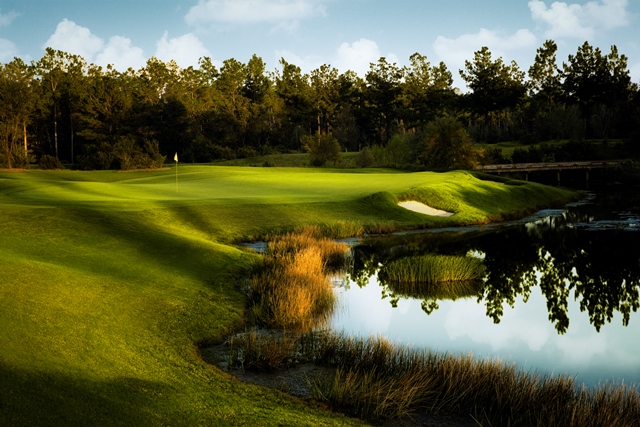 The seventh hole at Fallen Oak Golf Club (Courtesy of Beau Rivage)
BILOXI, Miss. – If you've never heard of Fallen Oak Golf Club, I invite you to watch the Champions Tour's Mississippi Gulf Resort Classic March 23-25 on the Golf Channel. You'll certainly want to check out the golf course as well as the play.
I'm told that if a Champions Tour player can make it work for his schedule, this is one event he doesn't want to miss. There are probably a lot of reasons for that, but one that's undeniable is the golf course.
I got a chance to play this terrific Tom Fazio design on Monday and can tell you it's everything it's cracked up to be, even on a dreary, showery day. It has Fazio's signature bunkers(to be avoided at all costs if you can), but really the course is fairly playable if you have a little control over your golf ball. Course conditions, as you might expect from a tour course, are exceptional. The course was sand-capped with eight inches of sand when it was built six years ago and features Sub Air underneath the greens. Even after some heavy downpours, Fallen Oak remained very playable.
The holes are visually stunning, and the service is terrific, from the professional staff to the caddies to the people working in the clubhouse's wonderful bar and grill that overlooks the 18th. One player who went out there on Sunday compared the course to Augusta National. Can there be higher praise?
It's also very exclusive, meaning there's only one way to play here: You have to stay at the Beau Rivage Casino Resort and pay the $200 green fee. If that sounds like a lot, it is, of course, but this is an exceptional golf experience with 12-minute tee times (often there are very few on the golf course) and individualized service.
Fortunately, Beau Rivage, the MGM property that owns and operates the golf course as an amenity, offers golf packages, so you can carve out a nice little golf trip for yourself and enjoy the comforts of a Las Vegas-style resort.
Beau Rivage has more than 1,700 rooms, terrific dining and reportedly the best spa among the MGM properties. It's not a bad way to go for the Champions Tour players or anyone else who simply likes to play on a great golf course and enjoy that VIP feel.
No feedback yet
Comment feed for this post
Leave a comment