This week's Accenture reminds us of the fun of match play golf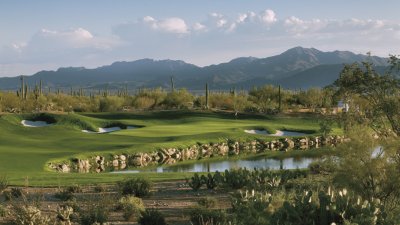 Say what you want about Jack Nicklaus' near-8,000-yard golf course at the Ritz' Carlton Dove Mountain; I don't think you can argue that it's not interesting. As I've watched the Accenture Match Play Championship over the last few years, seeing how these guys handle this Marana, Ariz., area desert course, which was tweaked after the first year a couple of years ago, is most fascinating.
It really is a great match play course, which is exactly what Nicklaus intended and how most guests should play it when they get the chance. The greens are difficult – just ask Tiger Woods who lost to Nick Watney is Round 2 today – there are lots of risk-reward opportunties, and the desert is always looming. It's easy to shoot a high number on a hole, which is demoralizing if you're keeping stroke play score.
Bubba Watson, for example, picked up a couple of times in his loss to Matt Kuchar in the second round. If you lose a hole, you just move on. And at the end of the day, when you're talking about your round over a cold one, sitting on the deck of the Ritz-Carlton's magnificent clubhouse, you'll be recalling the great shots, the false fronts, the near misses, the crazy putts, etc., not a depressing total score. (Now that I think about it a little, more, match play is more fun most of the time, no matter where you're playing.)
Many argue that resort courses should be very player friendly, and that's true to a certain degree. But when a resort has a World Golf Championship event, that's kind of hard to do. And part of the appeal of resorts like the Ritz-Carlton, Dove Mountain is that it does host a tour event. And golfers, no matter how badly they play, want to see how they measure up with the best. It's human nature. And in this case, match play makes perfect sense; it's not demoralizing.
In truth, though, the Ritz-Carlton is player friendly. It has six different set of tees, and let us not forget that it does have another nine holes, the Wild Burro nine, which Nicklaus said was actually his favorite. It's very different from the 18 they're playing on TV this week. I'm not sure it's much easier, but it is more conducive to stroke play.
Add to that the incredible dining, great spa and fantastic rooms at the Ritz-Carlton, and you've got a really special golf vacation. Just remember to play match play, and you'll have more fun.
Follow up:
No feedback yet
Comment feed for this post
Leave a comment