Getting on the good side of a Big Island golf trip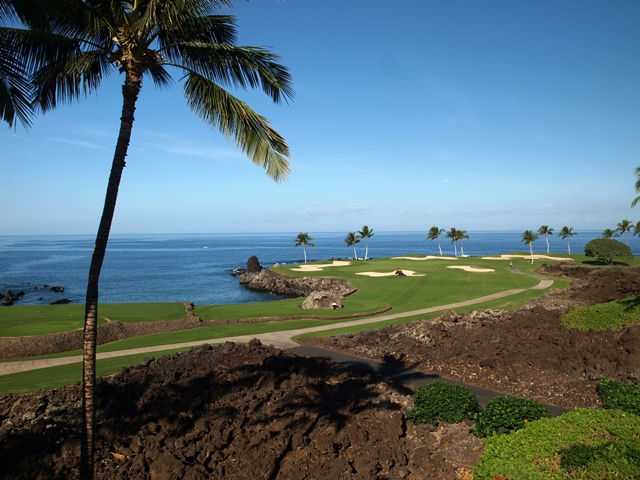 A room with a great view – the 15th at Mauna Lani South (Mike Bailey photo)
KOHALA COAST, Hawaii – We took the scenic route on this golf trip to the Big Island of Hawaii, flying into the Hilo side. Kona, where all the fancy resorts are located on the opposite side of Hilo, is the port of choice for most golf vacationers. But if you're willing to drive three hours and take in a few of the sites along the way, you can save big-time on airfare flying in on the rainy side.
And when I say rainy side, that's an understatement. There are 13 different climate zones on the Big Island, and Hilo gets 150 inches of rain, compared to less than 10 inches on the Kona side. And by big-time savings, we're talking less than half on airfare arriving in the rain.
Our first night was at the Hilo Hawaiian, not exactly the Four Seasons, but comfortable and certainly scenic with ocean veiws and close to a unique breakfast joint called the Ken's House of Pancakes. Ken's serves everything from traditional Hawaiian Loco Moco to healthy options and a coconut syrup (made there) perfect for providing fuel to hike Hawaii Volcanoes National Park, followed by lunch at Volcano Golf Club and stops at various coffee farms en route to the west side of the island, where we started playing golf.
And golf, expected, has certainly been good so far. Staying at the Sheraton Keauhou Bay, which offers golf packages, we played both courses at Kona Country Club for the first time. The Mountain Course, if you've never played it, was even better than advertised, with killer ocean views from most every hole. That was followed by Mauna Kea Golf Course, an impeccable Robert Trent Jones design redone by Rees Jones to perfection. The third hole is one of the most scenic par 3s in the world.
Speaking of par 3s, I've got a pretty good view of one right now. We've been fortunate enough to stay in a $2 million condo at Mauna Lani Point Villas, courtesy of Classic Resorts. This particularly unit overlooks the 15th at Mauna Lani South Golf Course, the golf course we play tomorrow. Needless to say, the scenery doesn't get old, whether it's in the morning, full light of the day or at sunset. Thank goodness for digital cameras.
2 comments
Comment
from: Christ Constantinou [Visitor]
Hello Mike,
Glad you enjoyed my little island and all the golf it has to offer. I will be retiring there in 6 months and hope to play a little myself. My place is just a mile south of Lava Java in Kona.

Enjoy the rest of your trip and say Hi to to your travel companion for me.
Aloha,
Christ
01/17/12 @ 05:05
Aloha, Christ. To protect the innocent, I edited your comment a little. But thanks for the well wishes. We really did enjoy your "little island," and hope that you will, too, when you retire there. -- Mike
01/18/12 @ 05:43
Comment feed for this post
Leave a comment