Golf trip to southern California: Fast food heaven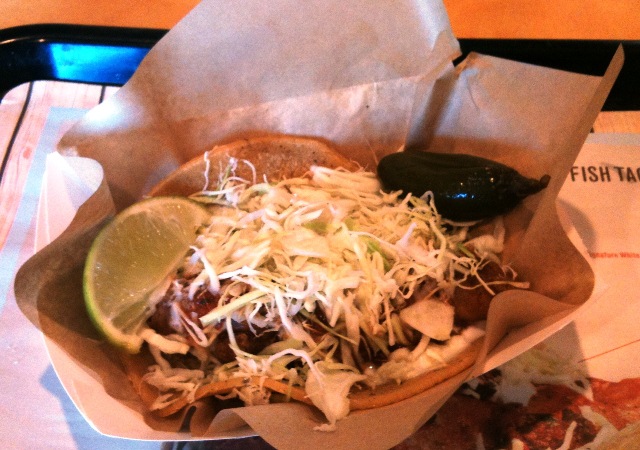 Rubio's fish taco
MURRIETA, Calif. – One of the things I love about California golf trips is that all my favorite fast food joints are located here. Yesterday, on the 15th hole at The Golf Club at Rancho California, I realized I was getting pretty hungry after I didn't come close on a three-foot par putt. Then I remembered I saw a Rubio's on the way to the golf course.
A couple of fish tacos sounded perfect. So after the round, it was off to Rubio's Fresh Mexican Grill.
Rubios, if you're not familiar with it, is a West Coast institution, one of two fish taco chains I like to frequent on journeys to California, Nevada or Arizona. The other is Baja Fresh, which makes a different style of fish taco.
Never tried a fish taco? You don't know what you're missing. Or maybe you do. But those of us who love them know they should be made with corn tortillas, garnished with cabbage, cilantro (and diced onions maybe) and lime. I like to load 'em up with hot sauce. You can get the fish grilled or beer-battered, like they do at Rubio's.
Fish tacos, however, are just the tip of my fast food vice around here. No trip to California is complete without at least one jaunt to In-N-Out Burgers. Not everyone is a believer, but In-N-Out fans will tell you that nobody makes them fresher with more care and love. And they just do burgers, fries and shakes there, so they're really good at it. I like mine Animal Style (with onions and pickles). And the fries are as fresh as it gets. Literally, your fries were raw potatoes just minutes earlier.
Another favorite is Del Taco. It's like Taco Bell, except it tastes better and they offer fries. I have no need for fries with my tacos and burritos, but apparently Californians like the combination.
Another favorite is Wienerschnitzel. It used to be called Der Wienerschnitzel, but I guess that was too long. They serve all kinds of stuff there, but I'm only interested in two things: chili dogs and kraut dogs. These warm, moist, soft-bun hot dogs can be eaten in about two bites – the ultimate comfort food. I'm pretty sure they're not good for you, but they sure are easy. Had a chili dog last night just because. I put in another 20 minutes on the elliptical trainer afterwards.
They also like Carl's Jr. and El Pollo Loco around here. Apparently Brad Pitt got his acting start at the latter wearing a chicken suit.
In any event, all of the above goes down easy after a round of golf.
A word of warning, though: In California, they're required by law to list the calorie count of all these delights on the menu above the counter. My advice is don't look. Or maybe you should. I did and can tell you that I'm finished with fast food for a while. It's salads and water the rest of the week for me.
1 comment
Comment
from: kathybhylton [Visitor]
yes the food in california was great. Now I'm hungry lol
12/22/11 @ 02:40
This post has 1 feedback awaiting moderation...
Comment feed for this post
Leave a comment