Golf at Barona Creek near San Diego: A wonderful contrast from eight years ago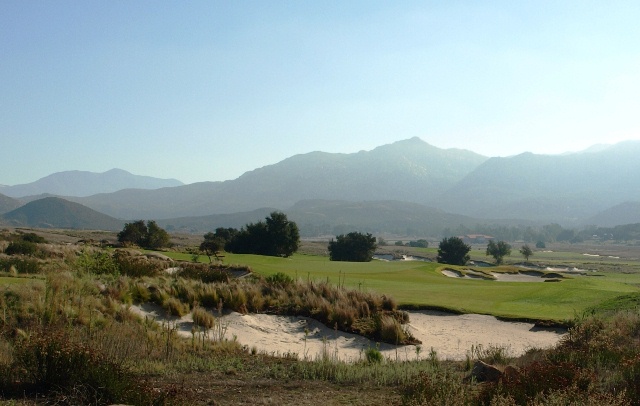 The third hole at Barona Creek (Mike Bailey)
LAKESIDE, Calif. – Contrary to the popular song of the early 1970s, it does rain in Southern California. I found that out first-hand on Saturday when I made it through just 14 holes of the newly unveiled Champions Course at La Costa Resort and Spa. Fortunately, the cold, wet conditions lasted just a day, I got to play the course again on Monday, and it's been spectacularly sunny all week here ever since.
And that's the norm around these parts. But I do remember gloomier times, like when I was down here doing a story on the 2003 Firestorm that ravaged Southern California and San Diego County. One of the courses I visited was Barona Creek Golf Club at Barona Resort.
What I learned then is how golf courses can actually serve as firebreaks, especially if you can get the irrigation system running. Barona Creek may have quite literally saved the casino and hotel there, judging by the charred acreage that outlined the fairways and greens on this terrific Todd Eckenrode-designed (Gary Roger Baird Design) course. The black against green actually made for an interesting look, but I liked what I saw on Tuesday better. The native areas around the course and on the hillsides are back, with a full color palette and plentiful wildlife; the golf course is in wonderful shape; and it's even been lengthened, having hosted the Nationwide Tour Championship in 2007 (which ironically came right after another wildfire).
It just goes to show that golf courses, unlike other sports venues, are living, breathing entities, always changing and certainly at the mercy of Mother Nature, maintenance practices and even the golfers who play the course.
Barona, an Audubon International Course, is the kind of experience that helps you reconnect with nature. The abscence of homes, the tender-loving care of longtime superintendent Sandy Clark and a terrific design make Barona Creek worth the 45-minute drive from downtown San Diego.
Even better is that you can stay at the resort, which offers gaming, comfortable rooms, a spa and one of the better casino buffets you'll find anywhere. (Hint: try to the crab legs; they were actually easy to eat.)
So if you're looking for a great winter getaway, think Barona Creek or the San Diego area in general. There's so much to choose from, and playing conditions are near perfect – well, most of the time.
1 comment
Looks so beautiful!
11/18/11 @ 09:06
Comment feed for this post
Leave a comment