Indiana Golf Course owners like French Lick's Dye Course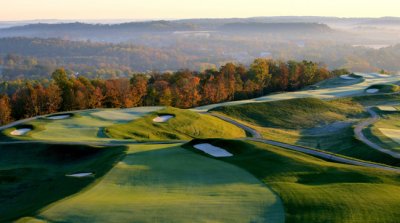 What's the best golf course in Indiana? That's certainly up for debate, but the most spectacular may be one of the hardest – the Pete Dye Course at French Lick Resort.
The course, which opened in 2009, was just named the 2012 Indiana Golf Course of the Year by the Indiana Golf Course Owners Association.
The Course of the Year Award honors a member meeting four criteria: exceptional quality of the course, exceptional quality of ownership and management, outstanding contribution to its community, and significant contribution to the game. The Dye Course is now one of 50 courses that will be eligible for the National Course of the Year at the NGCOA National Conference held in Las Vegas in February 2012.
There might not be a more polarizing golf course architect than Pete Dye, and the Dye Course at French Lick has certainly been criticized for being too hard. And yes, it's really difficult.
But is it enjoyable?'
I played it earlier this year and can say when I wasn't searching for golf balls in the hay, it was an incredible experience. I haven't seen many courses this beautiful, this well manicured and this interesting.
They played the 2010 PGA Professional National Championship there in 2010 and will again in 2014. It will also play host to the college Big Ten Championship in 2012 and the LPGA Legends Championship in 2013. It's a great test for top players and just plain fun for the rest of us as long as we bring enough golf balls.
Dave Harner, French Lick Resort?s director of golf, told me something interesting when I was out there. He said many players, even mid-handicappers, don't even keep score because after they make a few high numbers, there's no point. And despite the $350 green fee, he's heard very few complaints. They come into the shop, he said, "with a smile on their faces."
Really, the 8,000-yard test, which Dye said is on the best piece of inland propery he's every worked on, is only part of the equation at this remote Southern Indiana Resort. The resort's other big course, the Donald Ross Course, was recently renovated, and is pretty stout as well. More player friendly than the Dye Course, it's still a great test, and it's in incredible shape.
I would rather play the Ross Course day in and day out, but both are great experiences.
The building of the Dye Course and the Ross renovation were part of a $500 million dollar restoration and casino development project lead by its founder, Bill Cook, whose corporate philanthropy has changed lives and communities around the world including the small town of French Lick, Indiana.
The development continues to have an enormous economic impact on the small town of French Lick, providing jobs for nearly 1,700 of the county's 3,000 residents. It's no easy to get to, but well worth it if you can find the time.
1 comment
Comment
from: debbie schoentrup [Visitor]
Love playing this course with my husband,
what solitude and as you said the course is set on the 2nd tallest point in the state, you are on a beautiful course and who cares how you play it is a piece of golf heaven.
All the staff treats you so nicely. Being a women who loves to play the game they never have made me feel like this is a mans
place like some courses.
11/13/11 @ 11:49
Comment feed for this post
Leave a comment