California's Carmel Valley Ranch resort has golf and so much more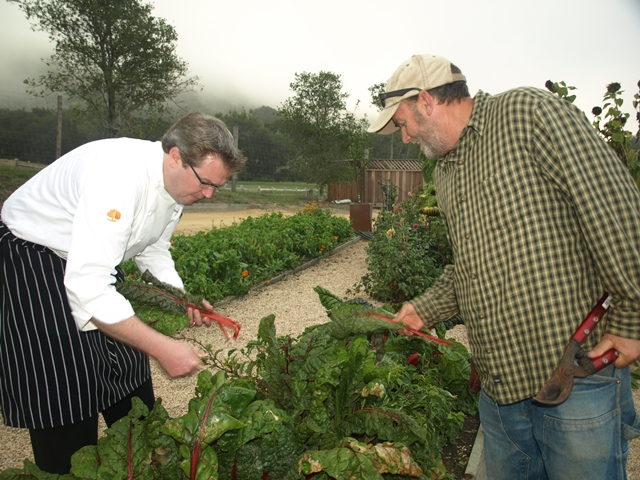 Chef Tim Wood picks dinner ingredients from Mark Marino's garden. (Mike Bailey/TravelGolf)
CARMEL, Calif. – Carmel Valley Ranch isn't like most other resorts. Sure, it has golf, tennis, a spa and great dining, but there's so much more here.
The Monterey Bay-Carmel area is beautiful, so this place already had that going for it. But more than anything, it has a 58-year-old owner who, fondly remembering summer camp, figured out how to combine fun with relaxation in an understated, yet sophisticated setting.
When John Pritzker bought this 500-acre resort a few years ago, he immediately started thinking of stuff that most resorts don't consider. Here, you'll find the symbol of the place – an old-fashioned rope swing hanging from the limb of a California Live oak – right on the property.
Perhaps most intriguing is that Pritzker decided to plant lavender all over the place. It attracts deer, of course, as well as bees, which might be a problem except at Carmel Valley Ranch they have an extensive bee program. They harvest their own honey and lavender, the latter of which is used in the spa and other applications.
The spa facility is impressive, but the therapists and staff are second to none. The food here is also more than great. Chef Tim Wood implements an extensive, authentic and exacting farm-to-table program. Everything they cook here bursts with flavor, whether it came out their own garden or somebody else's.
The tennis program here is also extraordinary. Some golf teachers could learn from veteran instructor Rick Manning of Peter Burwash International. He had a way of communicating fundamentals that was fun and entertaining, allowing the students to think for themselves with his guidance as he kept the lesson moving along.
There's also great hiking, bocce ball, swimming, two outstanding workout facilities, basketball courts and fire pits for conversation and S'mores at night. And the accommodations – all suites – feature fireplaces, huge tubs and great views of the hillsides.
For golf enthusiasts, the recently renovated Pete Dye-designed golf course at Carmel Valley Ranch isn't a championship layout at 6,100 yards, but it's a really cool resort course. But golf is just part of the package. I'll be checking that out in the morning. I'm sure it will be good, but it will have a lot to live up to; the rest of the resort set pretty high standards.
2 comments
Mike, I'm a fellow Houstonian planning to spend a few days in Big Sur in early to mid-December 2011. I'd like to at least get in 9 holes while i'm in the Carmel area, what should I expect weather-wise? Is there good golf to be had that time of year?
11/21/11 @ 14:08
December can be excellent for golf in the Carmel area, and on the Monterey Peninsula, too. You just never know. Carmel Valley is known for having sunny days while it may be foggy and/or drizzly on the coast. But chances are really good that you'll be able to play golf in pleasant conditions.
11/22/11 @ 03:29
Comment feed for this post
Leave a comment