What's not to like about playing at Las Vegas' Wynn Golf Course?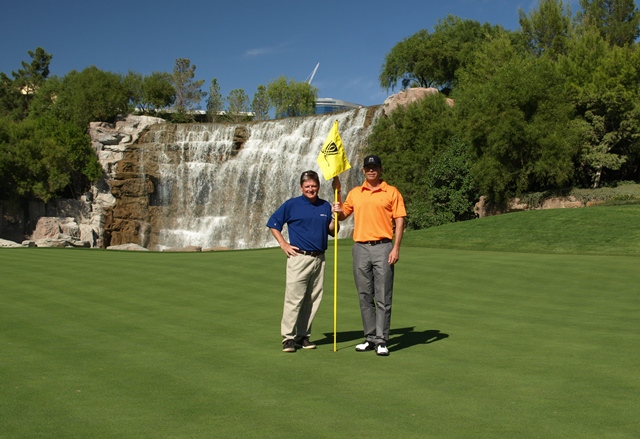 Director of Golf Brian Hawthorne (right) and I had a perfect day at Wynn Golf Course Wednesday.
LAS VEGAS – One of the unique aspects of playing golf in Las Vegas is that at many of the venues, no matter who you are, you're treated like a high roller. And that isn't bad. One in particular is Wynn Golf Course, which is one of three venues around town that can command a $500 green fee.
If that sounds outrageous to you, well, it might be, depending on your perspective. Of course, that's what it costs to play Pebble Beach Golf Links, and you have to book a couple of nights at the Lodge there on top of that so it's really more than $1,200 to $1,500 to play there. And yes, I understand Pebble has the ocean and the history and the great holes and so forth, but it's all relative. In essence golf is about the experience, and Wynn is a very premium experience.
First, any criticism that the course is contrived is not valid. Forget the expensive waterfall behind 18; take it for what it is – cool (after all, you get to drive your cart behind it at the end). Really, all golf courses are contrived if you think about it. There are very few places where they just cut cups and stick flagsticks in the ground.
But let me check off the rest of the really cool stuff about this 7,100-yard par 70 golf course:
• Steve Wynn collaborated with Tom Fazio on a really interesting, fun and challenging design. I could do without some of the ball-eating bushes above the fairways (even though I never hit into them), but the creeks, streams, ponds, greens complexes, bunkering, elevation change, uneven lies – all good.
• Customer service is outstanding, from the locker room attendant to the caddies to the food and beverage. You really do feel like you're at an very exclusive club (which you are), and most of these services – including free spikes if you need them – are included in the green fee.
• The views are incredible. In the distance, there are mountains, but the surrounding casino resorts, Stratosphere and the rest of the Vegas Strip in contrast to the dark green grass makes for a surreal and impressive scene – far more impressive than the Desert Inn Golf Club that used to be here.
• And finally, conditioning at this golf course is Augusta-like, and what's not to like about that? Perfect lies everywhere, and the Penncross greens are flawless, which means you can make a lot of putts. I know because I had only 25 of them today, which I'm pretty sure is my best ever in 25 years of playing this game.
No feedback yet
Comment feed for this post
Leave a comment