Thinking golf in Asia? Think Thailand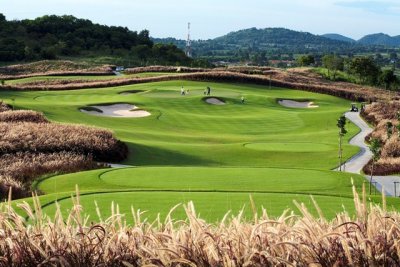 One of the more memorable excursions I've had on this job was a golf trip I took earlier this year to Thailand. Quite naturally, many folks are surprised to learn not only are there more than 260 golf courses in Thailand, but it's pretty good as well – and affordable.
It seems it's starting to catch on, especially in Europe and Australia, a little slower in the United States, although I suspect that's mostly because of the 20 hours of travel from here.
How popular golf is becoming in Thailand might surprise you. The value of foreign golf tourism to Thailand is estimated to reach $1.9 billion this year and surpass $2 billion in 2012.
Based on a Tourism Authority of Thailand forecast for a record 19 million inbound visitors to the Kingdom next year, up to 600,000 foreign golf tourists – or 3 percent of the total – will make a beeline for its five major golf destinations: Bangkok, Phuket, Hua Hin, Pattaya and Chiang Mai.
According to Mark Siegel, whose company GolfAsian is one of Thailand's major inbound golf tour operators, foreign golf tourism into Thailand is continuing to grow, while he says golfers spend an average of $3,300 each on the ground – three times the average of other tourists.
"It could be our best season ever," Siegel said. "The political situation is calm, there have been no natural disasters to deter tourism, and Thailand's cultural capability to attract tourists remains streets ahead of other markets."
Perhaps even more remarkable is that Thailand has 60 fewer golf courses than Spain, 200 fewer than Scotland and 100 less than Ireland, yet it's starting to rival those destinations in golf tourism.
Rising long-haul demand and improving numbers from Japan and Korea also help. The Thai Golf Experience, a co-operative marketing group comprising Thailand's top golf courses and hotels, are expecting a bumper high season from November to March and ongoing strong demand throughout 2012.
"There has been a dramatic improvement," said Prasertchai Phornprapha, managing director of Siam Country Club (pictured above) near Pattaya, a two-course complex that relies purely on pay-as-you-play visitors and is expecting to host 50,000 foreign golfers in 2012, half its total expected numbers. "When there is peace in Thailand it is the destination of choice because of its culture and value for money."
Meanwhile, the Thai government has high hopes for continued strong overall tourism growth over the next four years. Earlier this month, Deputy Prime Minister and Tourism and Sports Minister, Chumpol Silpa-archa, announced a target of at least 30 million foreign inbound tourists by 2015, who he said were expected to generate national revenues of $466 billion at current exchange rates. If achieved, the target would almost double inbound arrivals in just five years.
No feedback yet
Comment feed for this post
Leave a comment