Golf at TPC Sawgrass made better by caddie extraordinaire Barry Rose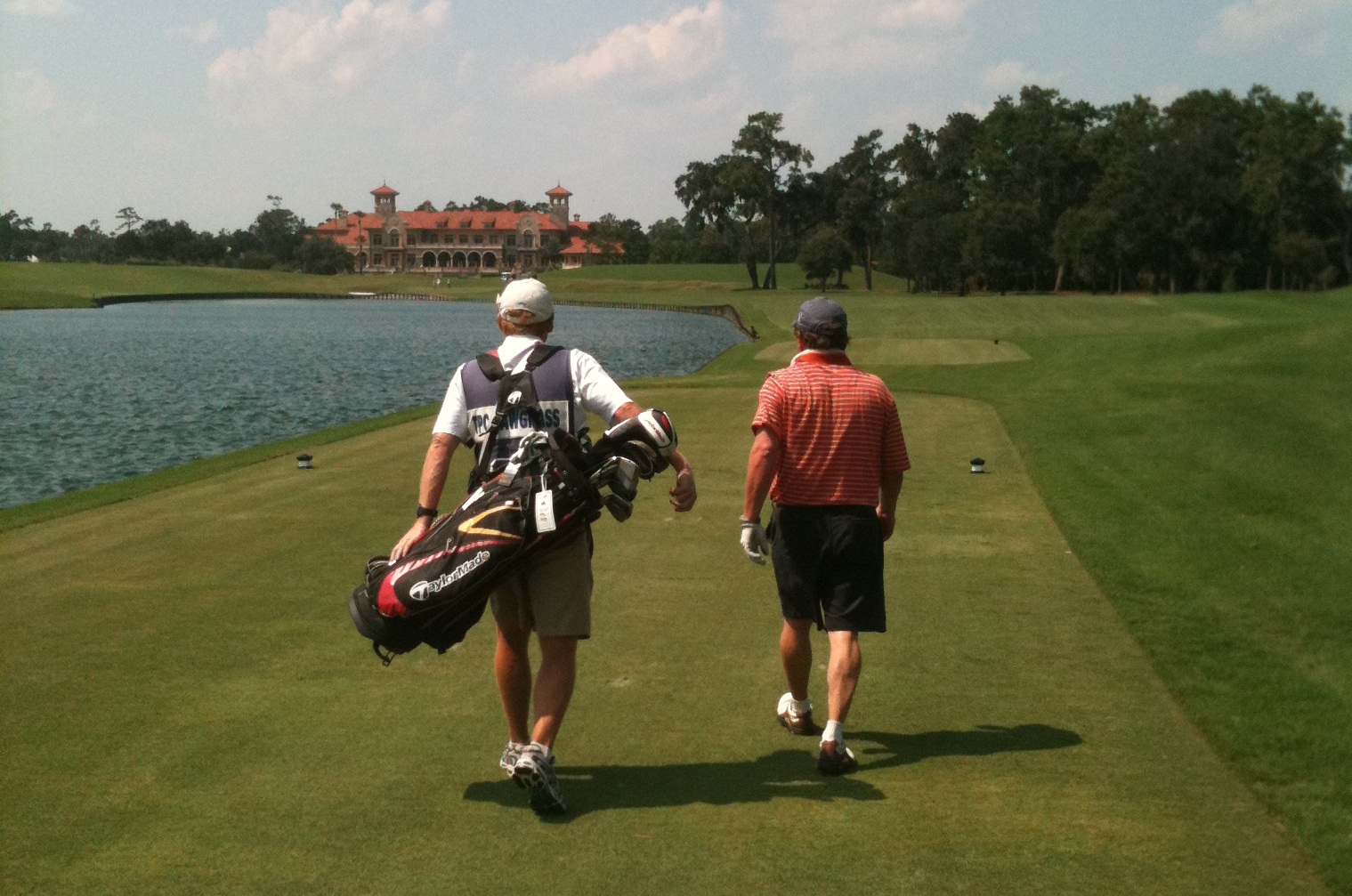 Caddie Barry Rose and me on the 18th at TPC.
PONTE VEDRA BEACH, Fla. – The wind was kicking up, it was hot, and Pete Dye'sTPC Sawgrass Stadium Course is just plain difficult. Good thing I had the TPC's Caddie of the Year on my bag. The carnage could have been a lot worse.
Barry Rose, the 2010 Caddie of the Year – voted upon by his peers, caddie master and through evaluation cards – drew the unenviable task of looping for me during my second-ever round at the famed home of The Players Championship today. Right away, Rose made a prudent suggestion. Given the course is cart path only because they want to keep it in top condition, he suggested we walk.
The course is very walkable, so why not? Plus, I probably didn't walk that much more than the folks riding in buggies who had to keep grabbing clubs and walking across the fairways to their balls.
My group consisted of two members and one of the better junior players in the country – Josh Lee, a high school junior who played the back tees and hit his 3-wood way past my drives and will most certainly play major college golf.
I tackled the blue tees (one up) and my driver just didn't hold up. But for a while, the putter sure did, thanks to Rose's encouragement.
Rose was dead on when it came to reading greens. To me, that's always been 75 percent of the battle. When you're sure of the read, it sure is easier to put a good stroke on the ball.
He was also very encouraging, on every shot. He made me feel like I really had game, and I never got down on myself.
It didn't take long for him to zero in my iron distances, and we never made a bad decision. Some bad swings, yes, but no bad decisions. And finally, we had great conversations, about golf, life, sports, you name it.
Temps reached upper 90s around here today, so I wilted some in the middle of the round, but did rediscover a swing on the last few holes. I managed to hit the par-5 16th in two, but had my only three-putt of the round. (In all fairness, the eagle putt was probably 70 feet.)
And I lipped out for birdie on the 17th after hitting a 9-iron in a swirling wind right above the hole. It's the second time in two tries I've almost made birdie on the famous island green. I've played the copy of this hole dozens of time with much success (at Tour 18 Golf Club), so I guess I don't know any better.
The final tally was somewhere in between 80 and 90 (think the higher number).
No matter, I still had a blast. For all the naysayers out there, this is a great golf course. Dye forces you into some uncomfortable tee shots, and you better adjust or else. Quite simply, it's a great test of golf.
Made easier by the Caddie of the Year.
2 comments
I enjoyed your blog. Its fun, and I think you've made Sawgrass seem even more appealing to those who haven't gotten a chance to play there yet. Well, you've at least made it evermore appealing to me.
08/27/11 @ 19:53
Love the pic and the blog. I don't think I've ever read such nice kudos about a caddie. He must be really great! Glad you had a fun if challenging time.
08/28/11 @ 06:51
This post has 1 feedback awaiting moderation...
Comment feed for this post
Leave a comment