Visit to World Golf Hall of Fame long overdue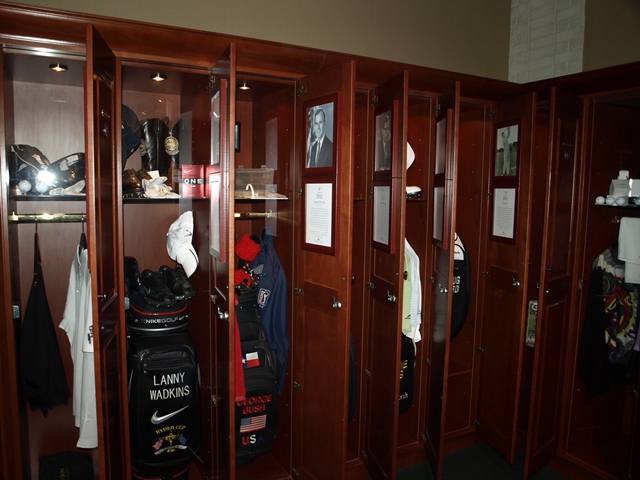 The lockers at the World Golf Hall of Fame (Mike Bailey/TravelGolf)
ST. AUGUSTINE, Fla. – I've known about it, written about it, followed the inductions and like you, seen the commercials. But until yesterday, I had never visited the World Golf Hall of Fame at World Golf Village.
It wasn't that I didn't want to in my 18 years of golf writing; it just never quite coincided with my travel schedule. In fact, aside from the TPC Stadium Course at Sawgrass, I had never played golf in the Jacksonville, Fla., area until this week.
Well, better late than never, and I recommend you head over here as well if golf is your passion. There's really something of interest for everyone, and you could spend all day at the World Golf Hall of Fame and Museum.
Opened in 1998 (the Hall used to be located at Pinehurst), the collection of artifacts documenting the game is amazing. Of course, the stories of the 136 inductees are here, too, including extensive exhibits on this year's new members – President George H.W. Bush, Ernie Els, Frank Chirkinian, Doug Ford, Jock Hutchison and Jumbo Ozaki.
There's really so much to see and do at this huge facility. In fact, if you lived here, it would definitely be worth having a season pass because you could discover new stuff every time you came here. There are audio tours, video presentations, a locker room full of memorabilia in players' lockers and special exhibits.
A huge exhibit about Bob Hope is as entertaining as the comedian himself. Most of us know of his love for golf, but the exhibit, which will go on the road in October, gives you a new appreciation for Hope's love of the game and of life.
I really liked the lockers exhibits. Some lockers had more stuff than others. Gary Player's was really full, including the bag of almonds he insisted should be there, reinforcing his message of good nutrition.
There's also a great special exhibit on Nancy Lopez. Her contributions to the game, especially women's golf, can't be underestimated, and this exhibit does a great job illustrating that.
There's interactive stuff, too, like a putting green where you can use an old hickory putter. And outside, you can take a crack at an island green, like the one down the road in Ponte Vedra Beach, or take your turn on an 18-hole putting course.
So the next time you're planning a trip to Orlando for Disney World or Universal, you might want to take a day off to make the short drive over here. Or better yet, stay at the Renaissance Hotel at World Golf Village and play a little golf as well. You won't regret it.
No feedback yet
Comment feed for this post
Leave a comment