Longaberger Golf Club does central Ohio proud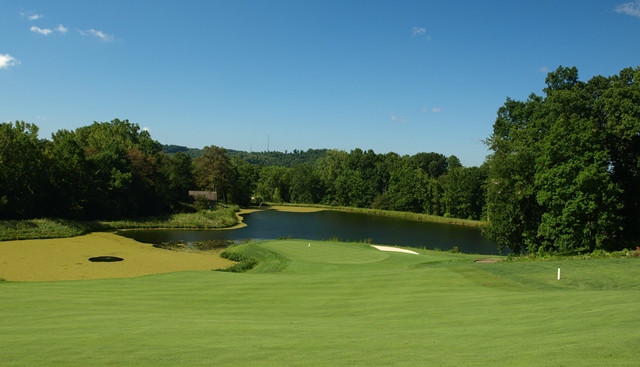 Longaberger Golf Club's eighth hole (Mike Bailey/TravelGolf)
COLUMBUS, Ohio – When you think of golf destinations, central Ohio probably doesn't come to mind. But if you happen to be in the area, there are definitely some courses worth checking out, and one of them is ranked among the top 60 daily-fees in the country.
Longaberger Golf Club, built by the Longaberger Company and family (known for their baskets), is one of those golf courses. The Nashport, Ohio course opened about 12 years ago to rave reviews, as it should had. In fact, of the Arthur Hills-designed courses I've played, I would rank this as my favorite with its rolling hills, great views, impeccable conditions and holes that are just plain fun.
If you want to know how good it is, know this: the first couple of years it opened, tee times were sold out months in advance, and golfers who wanted to play on the course submitted their names to a waiting list. Of course, as the economy turned south and people got used the course, demand started to dwindle, but the course is as good as it was a decade ago and maybe even better.
It's also a bargain. In the beginning the all-bentgrass Longaberger commanded three-figure green fees, but you can play this special track for $59, and I promise you it's better than many of the ballyhooed courses you find at four- or five-star resorts that cost four or five times as much to play.
Longaberger also offers plenty of golf packages, hooking up with local hotels or the arboretum resort, Cherry Valley about 15 minutes away. You can also pair your golf with another decent design, the Mike Hurdzan-Dana Fry designed EagleSticks Golf Club in Zanesville. This hilly golf course has all kinds of cool angles, memorable par 3s and a very friendly staff.
I was also fortunate enough this week to check out the Scarlet Course at The Ohio State University. Home of a Nationwide Tour event and perennial host of big-time college golf, this Alister MacKenzie course (renovated by OSU's own Jack Nicklaus in 2005) is all it's cracked up to be.
If you're not a faculty member, student or alumni, you might want to find one who can help you get on the Scarlet. It's well worth it, but be forewarned: this is a big boy course with intimidating bunkers and very challenging greens. It can be a grind.
1 comment
Get any tattoos? I hear they're cheap in Columbus
08/18/11 @ 11:43
Comment feed for this post
Leave a comment